MENUS
Wine Tasting: Beach Bash
Sit back, relax and enjoy wines perfectly suited for the beach.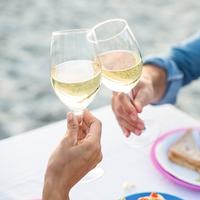 Who doesn't enjoy a great summer wine? A crisp, refreshing varietal that can be enjoyed in warmer weather - while grilling or relaxing at the beach. There are many styles available in the wine stores today that enhance the simple, straightforward flavors and techniques of summer cooking. This class will feature six wines and summer fare perfect for the deck.
Bruschetta with Whipped Goat Cheese
4 ounces goat cheese
1 cup ricotta cheese
½ cup mascarpone cheese
Sea salt and freshly ground pepper
1 baguette, cut into slices
Olive oil
Honey
½ cup candied pecans
Add cheese to bowl of a food processor; puree until smooth. Season with salt and pepper.
Preheat grill to medium high heat. Drizzle bread with olive oil; grill on one side until toasted and blackened in spots. Remove from grill.
Top bread with whipped cheese; drizzle with honey and garnish with nuts. Serve immediately.
Crab Cakes
2 egg yolks
1 teaspoon Worcestershire sauce
1 teaspoon fresh lemon juice
1 teaspoon Dijon mustard
1 tablespoon minced shallot
2 tablespoons minced roasted red pepper
1 pound lump crabmeat
1 cup fresh bread crumbs, or as needed
Fresh parsley
Salt and pepper
In a small bowl, mix together the egg yolks, Worcestershire, lemon juice, Dijon, shallot and roasted pepper. Season with parsley, salt and pepper.
Gentle fold in crab; mix in just enough bread crumbs to bind the mixture. Form into cakes.
Bring a large nonstick skillet to medium heat and add the oil. Cook the crab cakes, turning once, until nicely golden and center is warmed through. Serve with sauce.
Sweet Corn Sauce
1 tablespoon butter
1 shallot, minced
1 ear of corn, kernels cut from cob
½ cup white wine
1 cup heavy cream
Minced fresh parsley
Salt and pepper
Bring a small sauce pan to medium heat and add the butter.
Cook the shallots until softened; add the corn and cook until tender.
Add the wine and cook until reduced by half.
Add the cream add cook until reduced by one-third.
Remove from heat; puree. Season with parsley, salt and pepper.
Peach and Berry Croustades
1 stick cold unsalted butter, cut into tablespoons
1 1/3 cups all-purpose flour
½ teaspoon salt
½ teaspoon baking soda
2 to 3 tablespoons cold water
1 teaspoon white wine vinegar
4 large peaches, halved pitted and sliced ¼" thick
½ cup sugar plus more for sprinkling
¼ cup flour
1 egg yolk, mixed with water
To make the crust, add butter, flour, salt and baking soda to food processor. Pulse until it resembles coarse meal. Add the water and vinegar; continue pulsing just until dough forms.
Flatten each into a disk; wrap in plastic and refrigerate for 30 minutes.
Preheat the oven to 375 degrees. Toss the peaches with sugar and flour.
Roll out dough to a 11" round; transfer to a 9" tart pan. Add filling; fold 1" of dough over the fruit to form a rim.
Brush the crusts with egg wash; sprinkle with sugar.
Bake the croustades for about 50 minutes, or until the crusts are golden. Transfer to racks to cool for 20 minutes.