Featured Recipe: Seared Fish with Caramelized Onions, Raisins and Pine Nuts
Enjoy the flavors of Italy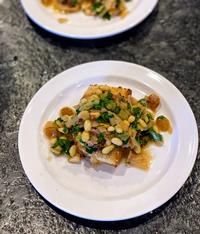 The following recipe highlights the Italian flavors. Although the finished product is elegant, this recipe is very accessible. With minimal ingredients and limited prep, this meal comes together quickly. It could be a healthy addition to your weeknight table. Mangia!
Pan Seared Fish with Caramelized Onions, Raisins and Pine Nuts
4 fish filets (cod, scrod, and sea bass)
Salt and pepper
Wondra flour
1 tablespoon oil
Sauce
Half a small onion sliced
One clove of garlic sliced
1 tbs pine nuts
1 tbs golden raisins
1 tbs rice vinegar
¼ white wine
1 tbs butter
Season and flour fish; heat oil in pan over medium heat.
Sear fish, turning once, 2 to 3 minutes per side. Remove fish from pan. Add onions and garlic, cook for 1-2 minutes. Add pine nuts and raisins.
Add rice vinegar reduce by one-third. Add white wine and let simmer until flavors combine. Remove from heat; swirl in butter. Serve sauce over fish.