MENUS
Featured Recipes: Foods of Provence
And Wine Selections to Match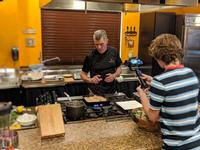 Yesterday, Denis and Mike brought to us another Virtual Food and Wine class through Facebook Live. This time the theme was France and we highlighted a new menu that we recently added to our meal package offerings. We hope you had fun joining us and welcome you to recreate some of these recipes at home. Some of these recipes below truly highlight what summer has to offer - fresh fruits and vegetables. And with many families planting their own "victory gardens" at home this past spring, you may not need to look further than your backyard for ingredients. Bon Appetit!
Wine Selections
Mommessin Beaujolais (Red Wine) to accompany the chicken dish
Chateau Ferages Roumery Provence Rose to accompany the gratin
De Perriere Brut Sparkling Wine to accompany the salad
Roasted Tomatoes
8 plum tomatoes, halved
3 to 4 tablespoons olive oil
2 tablespoons minced fresh garlic
1 tablespoon fresh thyme
Sea salt and freshly ground black pepper
Preheat oven to 300 degrees. Place tomatoes, cut side up, on a sheet pan. Drizzle with olive oil; season with garlic, thyme, salt and pepper.
Roast tomatoes until soft and lightly caramelized, about 1½ hours. Let cool; store, refrigerated, in an airtight container.
Spring Mix Salad with Roasted Tomato Vinaigrette
¼ cup roasted tomatoes
¼ cup sherry vinegar
1 small shallot, chopped
1 egg yolk
1 tablespoon mustard
½ teaspoon salt
¾ cup olive oil
Freshly ground black pepper
4 cups spring mix
½ cup shaved fennel
¼ cup pickled onions
¼ cup sliced almonds
Add tomatoes, vinegar, shallot, egg yolk, mustard and salt to jar of a blender. With machine running, add oil in a steady stream. Season with cracked pepper.
Add spring mix, fennel, onions and almonds to a mixing bowl. Toss with dressing to coat (reserve remaing); season with salt and pepper. Serve immediately.
Pickled Onions
1 cup cider vinegar
3 tablespoons sugar
1 teaspoon salt
1 onion, peeled and sliced
Add vinegar, sugar and salt to a small saucepan and bring to a simmer over medium heat, stirring occasionally. Let cool slightly.
Add onions; let cool completely. Store, refrigerated, in an airtight container.
Herb Pistou
½ cup packed fresh parsley
½ cup packed fresh basil
¼ cup capers, rinsed and drained
4 cloves garlic
1 teaspoon anchovy paste, optional
½ teaspoon crushed red pepper
½ teaspoon salt
¼ teaspoon ground black pepper
1 cup olive oil
Add parsley, basil, capers, garlic, anchovy paste, red pepper, salt and black pepper to bowl of a food processor; process until smooth.
With machine running, slowly add olive oil. Adjust seasoning.
Grilled Summer Vegetable Gratin with Goat Cheese
1 yellow squash, sliced
1 zucchini, sliced
1 medium red pepper, cored and cut into sections
1 small red onion, sliced
¼ cup herb pistou, plus more for serving
Salt and pepper
3 to 4 beefsteak tomatoes, cored and sliced
1 cup crumbled goat cheese
½ cup panko bread crumbs
½ cup grated parmesan cheese
2 tablespoons olive oil
Preheat grill to medium-high heat. Toss vegetables with pistou; season with salt and pepper. Grill until charred but still crisp-tender. Remove from grill; let cool.
Preheat oven to 375 degrees. Layer vegetables in an greased casserole dish. Top with goat cheese and then tomato slices.
Stir together the bread crumbs, parmesan and olive oil; sprinkle over tomatoes.
Bake until tart is golden brown and bubbling. Let cool slightly; serve drizzled with additional pistou.
Grilled Chicken with Shallots, Lemon and Thyme
2 chicken breasts, split
2 tablespoon olive oil
Salt and pepper
1 small shallot, minced
Juice and zest of ½ lemon
2 teaspoons minced fresh thyme
2 tablespoons olive oil
Preheat grill to medium-high heat. Toss chicken with olive oil; season with salt and pepper. Grill, turning once, until nicely golden brown and cooked through. Remove from heat; let rest.
Stir together the shallot, lemon zest and juice, thyme and olive oil; season with salt and pepper. Drizzle over chicken; serve.
Almond Filling
1 stick butter, softened
¼ cup sugar
2 large eggs
½ cup almond flour
½ cup all-purpose flour
1 teaspoon vanilla extract
Add butter and sugar to bowl of a stand mixer; beat until light and fluffy, about 5 to 7 minutes. Add eggs, one at a time, waiting until first is incorporated until adding next.
Add flours and vanilla; beat at low speed just until incorporated.
Peach, Honey and Almond Tarts
One 11-inch round piece of pie dough
2 peaches, peeled, halved, pitted and poached
1 egg yolk, mixed with 1 tablespoon of water
2 tablespoons almond slices
2 tablespoons demerara sugar
2 tablespoons honey
Preheat oven to 350 degrees.
Place dough in a 9-inch tart pan with removable bottom; trim excess.
Top with parchment paper and pie weights; bake 15 to 20 minutes. Remove; let cool to room temperature.
Spread filling on bottom of tart shell.
Cut peach into wedges; arrange in filling.
Brush with egg yolk; sprinkle with almonds and sugar.
Bake until golden and puffed. Let cool; drizzle with honey and serve.
Learn More