MENUS
Feature Recipes: Perfect Sides for your July 4th Burger
Cucumber Salad, Roasted Potato and Vegetable Salad and Homemade Ketchup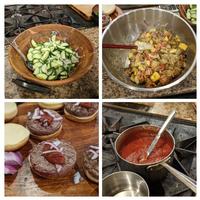 Earlier this week, Denis went Live on Facebook to help you get ready for the 4th of July. We were joined by Ron, a butcher at Altomonte's Italian Market, who taught viewers about the dry aged process and various cuts of meat. He also brought some burgers for Denis to grill. Denis chose some sides to complement such a high quality, delicious burger. These sides are not only easy to replicate at home but are also perfect for summer since the utilize in-season vegetables. To that note, Denis had extra grilled yellow squash that he added to potato salad. These recipes also allow you to express your creativity and match your taste buds. For example, while live, Denis chose to add a southwestern spin to the potato salad and used chipotles instead of sun-dried tomatoes. So, feel free to experiment with the spices in the ketchup or vegetables in the potato salad. And, enjoy the results as you sit around the table with family and friends!
Sweet and Sour Cucumber Salad
½ cup white wine vinegar
3 tablespoons sugar
1 teaspoon coarse kosher salt
½ teaspoon freshly ground black pepper
2 English hothouse cucumbers, unpeeled, thinly sliced
¼ cup finely chopped fresh dill
Add vinegar, sugar, salt and pepper to a small saucepan. Bring to a simmer; remove from heat and let cool.
Add cucumbers to a bowl; mix with dill and dressing. Let stand 1 hour.
Homemade Ketchup
1 teaspoon vegetable oil
1 tablespoon onion powder
½ tablespoon garlic powder
½ teaspoon ground cloves
½ teaspoon ground cinnamon
½ teaspoon celery salt
½ teaspoon cayenne pepper
½ teaspoon ground allspice
One (28-ounce) can tomato puree
½ cup apple cider vinegar
1/3 cup light brown sugar
Add oil to a large saucepan and bring to medium-low heat.
Add the spices; cook until lightly toasted, about 1 minute.
Add tomato puree, vinegar and brown sugar; bring to a very gentle simmer and cook, stirring regularly, until flavors combine, about 20 minutes. Let cool.
Roasted Potato and Vegetable Salad
2 russet potatoes, peeled and cubed
1 red bell pepper, cubed
1 small red onion, cubed
2 to 3 tablespoon olive oil
2 tablespoons spice mix
¼ cup mayonnaise or aioli
¼ cup chopped sundried tomatoes
Minced fresh parsley
Preheat oven to 375 degrees. Toss potatoes, bell pepper and onion with olive oil and spices. Transfer to a baking sheet; roast until nicely browned and tender.
Add to a mixing bowl; toss with aioli. Fold in tomatoes and parsley.
Learn More