MENUS
Featured Recipe: All Purpose Spice Rub & Memphis Style Sauce
Get ready to grill this summer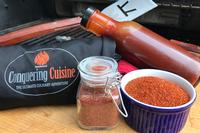 Denis featured the recipes below in our second installment of Lessons at the Dinner Table. If you want to learn more about these recipes, check out the video. Otherwise, here are two staples to have on hand for grilling season. Enjoy!
All Purpose Spice Rub
2 tablespoons smoked paprika
2 tablespoons chili powder
2 tablespoons salt
2 tablespoons garlic powder
1 tablespoon ground black pepper
1 tablespoon ground cumin
1 tablespoon dry mustard
1 teaspoon dried oregano
1 teaspoon cayenne pepper (optional)
Mix all ingredients together in a small bowl or jar. Store in an airtight container until use.
Note: for rib rub, add ¼ cup demerara or brown sugar.
Memphis Style Sauce
4 cups tomato sauce
1 cup cider vinegar
1 cup Coca-Cola
¼ cup steak sauce
¼ cup Dijon mustard
¼ cup fresh lemon juice
3 tablespoons molasses
3 tablespoons soy sauce
3 tablespoons Worcestershire sauce
1 teaspoon Tabasco
½ teaspoon liquid smoke
¼ cup All-purpose Spice Rub, optional
Combine all the wet ingredients in a large, non-reactive saucepan and slowly bring to a boil, uncovered, over medium heat.
Add bbq rub, gently simmer the sauce until thick, concentrated, and full flavored, about 30 minutes.