MENUS
Fine Wine and Food of Italy
2021 Edition Included a Virtual Option!
Event Date: 1/8/2021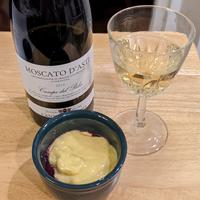 Eat, Drink, Learn (and Relax)! As we begin 2021, we continue to bring our wine pairing classes to you virtually. Of course, we always enjoy having our culinary adventurers in the shop, but we are happy to have a virtual offering for those more comfortable joining us from home. We kicked off the year by heading to Italy with Denis and Mike. Both Denis and Mike have Italian roots and their passion for Italian food and wine is easy to see. Enjoy these recipes and pairings. Salute!
Wines are available at Altomonte's in Doylestown.
Quaffing wine: Conti di San Bonifacio Rose - $19.99
Gouda Biscotti: Garofoli Verdicchio - $19.99
Polenta Cakes: Fratelli Povero Tumlin Nebbiolo - $24.99
Chicken: Casale Ciliani Malvasia / Primitivo Blend - $25.99
Dessert: Cantine Povero Campo del Palio Moscato - $19.99
Aged Gouda Biscotti
2-1/4 teaspoons active dry yeast
¾ cup plus 2 tablespoons warm water
1 tablespoon sugar
2-¾ cups all-purpose flour
8 ounces aged Gouda, shredded
½ cup walnuts, finely chopped
1 teaspoon kosher salt
6 tablespoons unsalted butter, softened
Combine yeast, ½ cup water, sugar and ½ cup flour in a bowl. Let stand 30 minutes.
In the bowl of a stand mixer, combine the remaining flour with the cheese, walnuts and salt. Mix in the yeast mixture.
Line a baking sheet with parchment paper. Scrape the dough onto a lightly floured work surface and knead until smooth. Divide dough into three pieces. Roll each piece of dough into a log; transfer to a baking sheet. Cover loosely with plastic and let rise 45 minutes.
Preheat the oven to 350 degrees. Bake biscotti 35 minutes, until they are golden and puffed. Remove from oven and let cool on the baking sheet for 20 minutes.
Reduce oven temperature to 300 degrees. Transfer logs to a cutting board. Slice into 1/3-inch thick rounds. Transfer to two baking sheets. Bake, turning once, for 45 minutes to 1 hours, or until golden and crisp.
Top Biscotti with Whipped Ricotta Cheese (recipe below) and Prosciutto de Parma.
Whipped Ricotta Cheese
½ cup whole milk ricotta cheese
1 tablespoons heavy cream
1 tablespoons extra virgin olive oil
¼ teaspoon salt
¼ teaspoon ground black pepper
¼ teaspoon crushed red pepper
1 teaspoon lemon juice
Zest of 1 lemon
Add ingredients to a large mixing bowl. Puree until smooth, add additional olive oil as needed
Season with salt and pepper.
Crispy Polenta Cakes with Mushroom and Demi-glace Ragu
1 cup polenta or coarse yellow cornmeal
¼ cup butter, divided
¼ cup freshly grated Parmigiano-Reggiano cheese
Salt and pepper
2 tablespoons olive oil
1 onion, diced
1 pound button mushrooms, quartered
2 cloves garlic, crushed
½ cup red wine
1 cup demi-glace
Fresh rosemary
Salt and pepper
Bring 3 cups of well-salted water to a boil in a saucepan over high heat.
Gradually whisk in the polenta. Stirring constantly, bring the polenta to a boil, then adjust the heat to low. Cook the polenta, stirring occasionally, until it is no longer grainy, about 30 minutes.
Remove from heat and stir in 2 tablespoons butter and parmesan. Transfer to a baking sheet, cover with plastic; transfer to refrigerator and let cool completely.
Bring a saute pan to medium-high heat and add the oil. Cook the onions and mushrooms until nicely browned; add the garlic and cook 1 minute more.
Add the wine and cook until reduced by half. Add the demi-glace; bring to a simmer and cook until flavor combine. Season with rosemary, salt and pepper.
Cut polenta into portions. Bring a saute pan to medium heat and add remaining butter. Cook polenta, turning once, until lightly browned. Serve topped with mushrooms.
Chicken with San Marzano Tomatoes, Caramelized Onions and Peppers
3 tablespoons olive oil
10 boneless, skinless chicken thighs
1 large onion, diced
1 large red pepper, diced
1 large can crushed San Marzano tomatoes
1 cup rich chicken stock
Tomato paste, if needed
Salt and pepper
Preheat oven to 325 degrees. Bring a heavy Dutch oven to medium high heat and add the oil.
Season chicken with salt and pepper. Cook, turning once, until nicely browned. Remove from pan.
Add the onion and red pepper and cook until nicely browned.
Add the tomatoes, chicken stock and reserved chicken. Bring to a simmer; transfer to the oven and cook gently until flavors combine, about 1 hour.
Remove from oven, skim any fat on surface. Thicken with a little tomato paste, if desired. Serve topped with parmesan cheese.
Vanilla Zabaglione over Mixed Berry Compote
6 extra-large egg yolks
½ cup sugar, plus two tablespoons
¾ cup dry Italian Marsala wine, such as Florio
½ teaspoon pure vanilla extract
¾ cup cold heavy cream
Whisk together the egg yolks, ½ cup of sugar and Marsala wine in a large heat-proof bowl. Place the bowl on a pan of simmering water to make a double boiler and whisk the mixture almost constantly for 5 to 7 minutes, until it expands in volume and becomes thickened.
Remove from heat; whisk in the vanilla extract. Set aside for 30 minutes to cool to room temperature, whisking once or twice as it cools.
Beat cream and remaining sugar in a stand mixer until soft peaks form. Gently fold into zabaglione.