MENUS
Featured Recipes: A Taste of Spain
Paella, Shrimp Crostini and More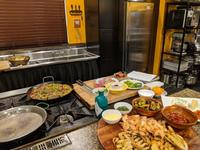 Once again Denis and Mike Conti teamed up to for a virtual happy hour to bring to you a cooking demonstration and wine pairing. As featured on our Facebook Live class from May 28th, below are the recipes from our Signature Taste of Spain Dinner Pack, along with the recommended wine. Enjoy!
Salad with Almonds, Chorizo and Dressing paired with Cune Monopole White Rioja (white)
2 tablespoons sherry vinegar
1 tablespoon orange juice
1 teaspoon honey
1 small shallot, minced
1 small garlic clove, minced
½ teaspoon fresh thyme, picked and minced
½ teaspoon sweet smoked paprika
½ teaspoon Dijon mustard
½ cup olive oil
Sea salt and freshly ground pepper4 cups mixed greens
¼ cup toasted Marcona almonds, chopped
¼ cup pickled red onions, recipe follows
¼ cup shredded Manchego cheese
2 to 3 slices Iberico chorizo, finely julienned
Add the first eight ingredients to a mixing bowl; whisk to combine. Add a few drops of oil, whisking constantly, until emulsified. Continue whisking; add remaining oil in a slow, steady stream. Season with salt and pepper.
Add remaining ingredients to a large mixing bowl. Toss with enough dressing to coat the leaves (reserve remaining). Adjust seasoning.
Shrimp Crostini with Salsa Verde and Honey-Garlic Aioli paired with Ethereo Albarino (white)
Salsa Verde
3 tablespoons extra virgin olive oil
¼ cup firmly packed flat leaf parsley, minced
1 teaspoon capers, chopped
¼ teaspoon anchovy paste
1 small clove garlic, minced
1 teaspoon lemon zest
1 teaspoon lemon juice
Pinch of crushed red pepper
Sea salt and freshly ground pepper
Shrimp
3 to 4 tablespoons olive oil, divided
3 to 4 slices of crusty bread (cut about ¾ inch thick)
¼ pound large shrimp, peeled and deveined
Pinch crushed red pepper flake, optional
1 garlic clove, sliced thin
Garlic Aioli (recipe follows)
To make the salsa verde: stir all ingredients in a small until well mixed; set aside.
To make the crostini: heat 1 tablespoon of oil in a skillet over medium high heat. Add bread to skillet; fry on 1 side only until golden around edges; remove from pan.
To make the shrimp: add remaining oil to pan. Cook shrimp, turning once, until pink and slightly charred. Add the crushed red pepper and garlic; cook for about 30 seconds.
Transfer shrimp to bread slices; top with aioli and salsa verde.
Garlic Aioli
½ cup mayonnaise
½ garlic clove, finely minced
1 teaspoon orange juice
1 teaspoon honey
Mix together all ingredients in a small bowl. until smooth; season with salt and pepper.
Paella paired with Vina Real Crianza Tempranillo (red)
4 cups shrimp or chicken stock
½ teaspoon crushed saffron threads
1 tablespoon olive oil
1 pound smoked chorizo sausage
2 medium onions, diced
1 green pepper, diced
4 garlic cloves, minced
2 cups medium grain white rice
1 large roasted pepper, diced
1 pound large shrimp, peeled and deveined
1 pound medium sea scallops
1 cup frozen peas
Salt and pepper
Add the chicken stock to a saucepan and bring to simmer. Add saffron; reduce heat and keep warm.
Preheat oven to 400 degrees. Heat olive oil in a paella pan over medium-high heat. Add chorizo and cook until browned. Remove from pan.
Add onions, peppers and garlic to pan; sauté until it begins to brown. Stir in rice; cook, stirring, 1 minute. Add stock and roasted pepper; bring to a simmer. Arrange shrimp, scallops and reserved chorizo in rice. Cover with foil.
Bake paella until rice is tender, about 20 minutes. Remove from oven; toss in peas. Cover with foil and let paella stand 10 minutes.
Learn More