MENUS
Featured Recipe of the Week: Risotto alla Primavera
A Favorite Springtime Dish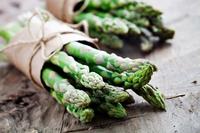 What is your favorite spring-time dish? Something that when you eat it, you are reminded that the grass is getting greener, the flowers are starting to bloom and the birds are chirping. And let's not forget, something that signals we have a new season of vegetables to inspire us. Well, for Denis it is Asparagus Risotto, so we wanted to share the recipe with you. We may be currently shut-in due to COVID19, but we can soak up the spring weather from our homes, maybe tend to our gardens and certainly evoke springtime memories when we prepare and eat a dish like this. Stay well.
Risotto alla Primavera
2 tablespoons olive oil
1 medium white onion, finely chopped
1-¾ cups arborio rice
½ cup dry white wine
4 cups chicken stock, heated
2 tablespoons unsalted butter
1 medium carrot, peeled and finely diced
8 ounces slender asparagus spears, trimmed, cut on diagonal into ½-inch pieces
1 medium zucchini, seeded and finely diced
1 medium yellow squash, seeded and finely diced
1 cup frozen peas, thawed
1 cup freshly grated Parmesan cheese
Basil, finely sliced
Salt and pepper, to taste
Bring large heavy pot to medium heat. Add the oil and the onions and cook until translucent. Add the rice

, cook until nutty

and then deglaze with wine. Add the stock in 1 cup increments, stirring often. Season with salt and pepper.

Meanwhile, melt the butter over medium-high

heat in a large skillet. Add the carrot and cook until softened. Add the asparagus, zucchini and yellow squash and cook, stirring often until vegetables are just soft. Season with salt and pepper.

Add the cooked vegetables and the peas to the risotto. Stir in the parmesan and the basil. Season with salt and pepper. Serve immediately.