MENUS
Featured Recipes: Food & Wine of Italy
A Virtual Happy Hour with Denis and Mike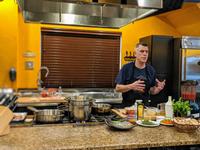 While the COVID19 doesn't allow us to gather in studio, we decided to bring you the next best thing, a virtual happy hour. And if Mike and Denis were going to delve into the world of Facebook Live for a wine and food class, it was only natural that they start with one of our most popular sessions - Italy. Here are all the recipes and wine suggestions from the session and if you weren't able to join us live, head on over to Facebook to watch the posted video. Wines can all be purchased locally at Altomonte's in Doylestown. Mangia and salute!
Roasted Tomatoes, Peppers and Olive Oil pair with Cleto Chiarli Brut de Noir Rose ($24.99)
1 pound plum tomatoes, halved
2 shallots, minced
3 cloves garlic, minced
1 teaspoon minced fresh thyme
¼ cup olive oil
Sea salt and freshly ground pepper
1 cup roasted peppers, chopped
2 tablespoons balsamic vinegar
Fresh basil, chopped
Bread
Meats
Cheeses
Preheat oven to 300 degrees.
Lay tomatoes out, cut side up, on a sheet pan. Top with shallots, garlic and thyme.
Drizzle olive oil over tomatoes; season with salt and pepper.
Bake until golden brown, about 1-1/4 hour. Let cool.
Toss with peppers, vinegar and basil. Serve with bread, meats and cheese.
Sauteed Chicken with Asparagus in White Wine Sauce (serves 4) pair with Aia Vecchia Vermentino ($20.99)
1 tablespoon olive oil
1½ pound chicken cutlets
2 shallots, sliced
1 clove garlic, minced
½ cup white wine
½ cup chicken stock
½ cup petite diced tomatoes
¼ pound asparagus, trimmed, blanched and shocked, cut into ½ inch pieces
½ cup chopped roasted red peppers
Fresh thyme
Sea salt and freshly ground black pepper
Bring skillet to medium-high heat and add the oil. Season the chicken with salt and pepper.
Cook, turning once, until center is just done. Transfer to a serving platter; keep warm.
Add the shallots and garlic and cook until nicely softened.
Add the wine and cook until reduced by half.
Add the stock and tomatoes; bring to a simmer and cook until reduced to sauce consistency.
Add asparagus and roasted peppers; cook until heated through.
Season with thyme, salt and pepper. Serve with chicken.
Ravioli in Tomato Cream Sauce pair with Cantine Povero "Marida" Barbera D'Asti
1 tablespoon olive oil
2 cloves garlic crushed
1 teaspoon Italian seasoning
Pinch of crushed red peppers
1 cup white wine
3 cups crushed San Marzano tomatoes
¼ cup heavy cream
Fresh basil
Salt and pepper
1 pound ravioli
Bring a nonstick skill to medium heat and add the oil. .Cook the garlic, seasoning and peppers until light golden brown.
Add the wine; cook until reduced by half.
Add the tomatoes; simmer until flavors combine, about 15 minutes. Stir in the cream; simmer 5 minutes longer.
Bring a large pot of well salted water to a boil. Cook pasta until tender.
Add the pasta to the sauce and toss to combine (thin with a little of the cooking liquid if needed). Season with basil, salt and pepper.
Learn More