MENUS
Food and Wine: French Steakhouse
Recipes from the cooking class.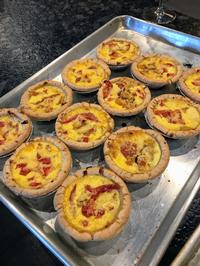 Tomato and Fennel Tarts
2 cups grated gruyere cheese
1 9-inch pie shell
2 cups diced heirloom tomatoes
1 small head fennel, trimmed, cored and shaved thin on a mandoline
1 shallot, finely diced
3 eggs, lightly beaten
1½ cups heavy cream
½ teaspoon sea salt
2 to 3 tablespoons grated parmesan
¼ pound bacon, cooked and diced
1 shallot, thinly sliced
3 cups parsley, leaves only
2 tablespoons extra virgin olive oil
1 tablespoon white wine vinegar
Sea Salt and Freshly Ground Black Pepper
Preheat oven to 350 degrees.
Spread cheese on bottom of the pie shell. Top with tomatoes, fennel and shallot. Beat together the eggs, cream and salt. Pour filling into shell. Bake until golden and puffed.
Toss together the parsley, shallot, bacon, olive oil and vinegar. Season with salt and pepper. Serve with tart.
White Bean Salad
¼ pound thinly sliced dry chorizo
2 duck breasts, skin scored with a knife
1 small onion, diced
2 stalks celery, finely diced
2 garlic cloves, minced
1 large can white beans, rinsed and drained
1 cup hard cider
2 to 3 tablespoons olive oil
1 to 2 tablespoons white wine vinegar
½ cup thinly sliced scallions (green part only)
Aged balsamic vinegar
Salt and pepper
Preheat oven to 350 degrees. Lay chorizo on a sheet pan and baked until crisp. Let cool; chop.
Add duck, skin side down, to nonstick skillet and bring to low heat. Cook, occasionally draining pan of excess fat, until skin is crisp. Turn over; transfer to oven, and cook until medium rare. Remove from pan and let cool.
Add back some of the fat to the pan and bring to medium heat. Add the onions, celery and garlic; cook until nicely softened. Add the cider and bring to a simmer; cook until reduced by half. Add the beans and cook until warmed through. Add the oil, vinegar and reserved chorizo.
Toss in scallions; season with salt and pepper.
Serve white bean salad topped with duck; drizzle with balsamic vinegar.
Seared Steaks with Peppercorn Sauce
8 ounces beef steaks
1 tablespoon olive oil
1 shallot, minced
1 clove garlic, minced
¼ cup brandy
6 beef stock or demi-glace
2 tablespoons heavy cream
1 tablespoon coarsely cracked black pepper
2 sprigs fresh thyme, leaves only
Salt and pepper
Bring a saute pan to medium-high heat; add 2 teaspoons olive oil. Season steaks with salt and pepper.
Cook beef until nicely caramelized on the one side; turn and continue cooking to desired doneness. Remove from pan; keep warm.
Add shallots and garlic to pan; cook, stirring occasionally, until golden. Add brandy cook, scraping up any brown bits on the bottom of the pan, until reduced by half.
Add the stock and heavy cream and cook until thickened. Remove from heat and add peppercorns; season with thyme and salt. Serve over steaks.

Pommes Puree
2 pounds Yukon Gold potatoes
4 ounces butter
1 to 1-1/2 cups light cream
Salt and pepper
Add potatoes to a large pot. Cover with cold water. Bring to a boil, reduce to a simmer and cook until potatoes are tender.
Meanwhile, add the butter and cream to a small saucepan and simmer until butter is melted; keep warm.
Drain, peel and rice the potatoes; stir in the cream. Season with salt and pepper.
Apple Tart Tatin with Whipped Cream
1¼ cups all-purpose flour
½ teaspoon salt
1 stick cold unsalted butter, cut into small pieces
2 tablespoons ice water, plus more if needed
1 cup sugar
4 tablespoons unsalted butter, cut into pieces
½ batch tart dough
Dash of lemon juice
2 to 3 apples, peeled, cored and cut into wedges
Add flour, salt and butter to the bowl of a food processor. Pulse until it forms a coarse meal. Add water, pulsing, until dough forms a ball. Flatten into a disk, wrap in plastic and chill 30 minutes. Roll dough out into a 10-inch round. Keep chilled.
Preheat oven to 425 degrees. Bring sugar, two tablespoons water and lemon juice to a boil in a 10-inch nonstick skillet. Cook, swirling pan, until the caramel turns medium amber in color. Remove the pan from the heat; swirl in the butter.
Arrange the apples in the pan and cover with the chilled dough round.
Bake until golden, about 25 minutes. Let cool 20 minutes; carefully invert tart onto a serving dish. Serve with whipped cream.