MENUS
Featured Recipe: Grilled Skirt Steak Tacos with Pineapple Salsa
Make the most of this beautiful weather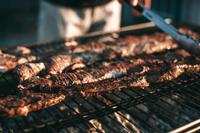 Just last week, Denis went live on Facebook to demonstrate how to grill skirt steak. Some of you may have enjoyed the finished product since we had a bonus kicked up taco dinner pack that night. Regardless, we want you to be able to recreate this deliciousness at home. And will summer on the horizon, what better time than now. So, fire up the grill, set the table outside and enjoy.
Grilled Skirt Steak Tacos
1 pound trimmed skirt steak
2 tablespoons Badia all-purpose seasoning
1 can pineapple juice
8 corn tortillas, warmed until pliable
Pineapple salsa, recipe follows
Season steaks; let stand 10 minutes. Transfer to a glass bowl; pour in pineapple juice, making sure meat is completely coated. Refrigerate four hours and up to 12 hours.
Preheat grill to medium-high heat.
Remove steak from marinade, discard marinade. Grill steaks; turning once, until medium rare, about 4 to 5 minutes per side.
Remove from grill; let rest 5 minutes. Cut, against the grain, into thin slices.
Serve in tortillas, two per taco, topped with pineapple salsa.
Pineapple Salsa
1 cup finely diced ripe pineapple
¼ cup finely diced red pepper
2 tablespoons minced red onion
1 tablespoon minced jalapeno, or to taste
Juice of ½ lime
1 tablespoon minced fresh cilantro
Sea salt, to taste
Add pineapple, pepper, onion and jalapeno to a mixing bowl.
Stir in lime juice, season with salt. Let stand one hour.
Learn More