MENUS
Featured Recipes: Steakhouse at Home
As featured on our Facebook Live event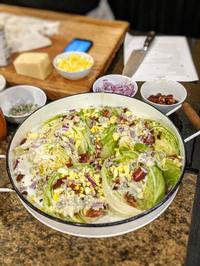 Last night Conquering Cuisine welcomed Scott from Round Guys Brewing Company in Lansdale for a new Facebook Live event. The topic? Pairing Beer with your At Home Steakhouse Dinner. The set-up? Conquering Cuisine offered a Steakhouse Meal Package to customers. Customers were provided with ready to serve delicious sides (recipes below), ready to cook steaks and the ingredients for the sauce. Then customers (and the rest of our Facebook community) joined us virtually to learn how to finish preparing the meal. We also treated customers to a 4-pack of Round Guys beer and Scott discussed how the beers paired with components of the menu. Our recent collaborations with local small businesses have not only provided us a deeper sense of community but have given us the opportunity to connect with customers in a whole new way. Enjoy these traditional steakhouse offerings at home and be sure to stop by your local craft brewer for the perfect beer to accompany your meal.
Wedge Salad with Egg, Bacon and Creamy Blue Cheese Dressing
2 cups mayonnaise
1 cup sour cream
¼ cup buttermilk
1 teaspoon Crystal or Frank's sauce
1 tablespoon lemon juice
7 ounces blue cheese, crumbled
Sea salt and freshly ground pepper
1 head iceberg, cut into wedges
Cooked bacon, crumbled
Grape tomatoes, halved
Thinly sliced red onion
In a large mixing bowl, whisk together the mayonnaise and sour cream. Add the buttermilk, hot sauce and lemon juice. Whisk until well mixed; season with salt and pepper.
Using a rubber spatula, gently fold in the blue cheese.
Serve iceberg wedges on a cold plate; top with dressing, bacon, tomatoes and thinly slice red onion.
Seared Ribeye Steaks with Brandy Peppercorn Pan Sauce
4 (8-ounce) ribeye steaks
2 tablespoons olive oil
2 shallots, minced
¼ cup brandy
1 cup veal stock
1 tablespoon Dijon mustard
¼ cup heavy cream
3 tablespoon brined green peppercorns
Fleur de sel and cracked tri-peppercorn mix
Preheat oven to 400 degrees. Rub steaks with a little oil; season with salt and pepper.
Bring a heavy skillet to medium heat and add the remaining oil. Cook the steaks, turning once, until golden brown.
Transfer to oven and cook to desired doneness (130 degrees for medium-rare). Remove pan from oven and transfer steaks to a serving platter to rest.
Place pan over medium heat and add the shallots; cook until softened. Carefully add the brandy (it may flambé) and cook until reduced by half.
Add the stock, cream and green peppercorns; bring to a boil, reduce heat and simmer until thickened and flavors have combined. Season with salt and pepper. Serve over steaks.
Truffled Macaroni and Cheese with Golden Breadcrumbs
¼ cup butter, plus 2 tablespoons
2 cups fresh breadcrumbs (made from white bread)
1 quart heavy cream
1 container mascarpone cheese
Freshly ground pepper, to taste
½ cup grated cheddar cheese
½ cup grated smoked gouda
1 pound elbow macaroni, cooked and cooled
2 teaspoons truffle butter
1 teaspoon truffle zest
1 tablespoon crispy bread crumbs
Sea salt and freshly ground black pepper
Melt ¼ cup butter in large nonstick skillet over medium heat. Add breadcrumbs; sauté until golden, about 2 minutes. Set aside.
Add cream and mascarpone to a heavy sauce; heat whisking often, until cheese is melted and mixture is thickened.
Remove from heat; stir in cheddar and smoked gouda.
Stir in macaroni, truffle oil and truffle zest. Season with salt and pepper; serve garnished with bread crumbs.
Creamed Spinach
1½ pounds baby spinach
1 small onion, finely chopped
2 tablespoons unsalted butter
2 tablespoons all-purpose flour
1 cup plus 2 tablespoons heavy cream
2 tablespoons freshly grated parmesan
Pinch of freshly grated nutmeg
Sea salt and freshly ground black pepper
Cook spinach in 1 inch of boiling salted water in a large pot, covered, stirring once or twice, until wilted, 1 to 2 minutes.
Drain in a colander and rinse under cold running water until cool. Squeeze small handfuls of spinach to remove as much moisture as possible, then coarsely chop.
Cook onion in butter in a small heavy saucepan over moderately low heat, stirring, until softened, about 4 minutes.
Whisk in flour and cook, stirring, 2 minutes. Add cream and simmer, whisking, 3 to 4 minutes.
Whisk in parmesan, salt, nutmeg, and pepper to taste. Add spinach and cook, stirring, until heated through.
Learn More