MENUS
Featured Recipe: Seared Pork with Dijon Sauce
Enjoy preparing and eating a meal with your kids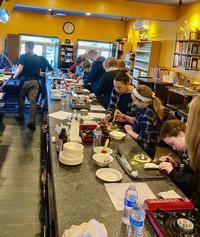 Seared Pork with Dijon sauce
This recipe was prepared at our Food of France Parent/Child cooking class. It is a manageable recipe to make at home and one with broad appeal. The value of cooking with your children can not be underestimated. You are not only teaching a life skill, but also an appreciation of good food. The bonus: time together in the kitchen and around the table.
Dijon is a region of Bourgogne, France, known for its exquisite cuisine. Mustard is made from the crushed seeds of the mustard plant. Dijon mustard is a style of mustard that originated from the Dijon region. You can make the sauce as creamy as you wish with heavy cream, or thin it with chicken stock .
1/8 stick unsalted butter
1 tablespoons olive oil
4 to 6 pork tenderloin medallions, cut from the loin, and lightly pounded
1 Tablespoon provencal herbs (sage, thyme, rosemary, oregano)
½ red onion diced
1 clove garlic diced
¼ cup dry white wine
¼ cup heavy cream
1 tablespoon Dijon mustard, such as Maille or Grey poupon
Fresh ground pepper
Sea salt and freshly ground pepper
Preheat a sauté skillet over medium heat; add butter

Season pork tenderloin with salt, pepper and provencal herbs

Cook pork, turning once, until golden brown and cooked through to the center; remove from pan.

Add olive oil and onions; cook until golden brown, add garlic midway

Add Dijon mustard and white wine.

Return pork medallions to pan, stir to coat meat, add heavy cream. bring to a simmer and cook a couple minutes until slightly thickened.