Featured Recipe: Pad Thai
Sunday Dinner with the Family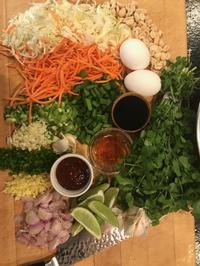 Since this Pad Thai recipe involves a little prep, it is perfect for a Sunday dinner with the family. Consider ditching the take-out and creating this delicious meal for the ones you love.
Traditional Shrimp Pad Thai
Sauce
3 tablespoons white wine
2 tablespoons water
2 tablespoons fish sauce
1 tablespoon soy sauce
1 teaspoon chili garlic paste
3 tablespoons brown sugar
Stir-Fry
8 ounces rice noodles
½ pound shrimp, peeled and deveined
2 to 3 scallions, sliced (keep green and white part of scallions separate)
2 cloves garlic, sliced
½ cup shredded cabbage
½ cup julienned carrot
1 teaspoon minced ginger
1 jalapeño, seeded and minced
1 large egg, lightly beaten
½ cup cilantro, coarsely chopped
¼ cup peanuts, roasted & salted
½ lime wedges
In a small bowl, combine sauce ingredients; stir to dissolve sugar. Set aside.
Soak noodles in warm water until pliable; drain.
Bring a wok to medium-high heat; lightly with oil.
Allow pan to preheat 2 to 3 minutes until oil is shimmering but smoking.
Add shrimp; stir-fry until center is just cooked through; remove from pan.
Add white portion of scallion, cabbage, carrot, garlic, ginger and jalapeno; stir-fry 1 to 2 minutes.
Push vegetables to side. Add egg; scramble until cooked.
Add noodles and ½ of pad Thai sauce, stir fry until noodles are al dente (continuously stirring).
Add remaining sauce and reserved shrimp; simmer just until thickened and sauce coats noodles.
Remove from heat and taste noodles, adjust seasoning with fish sauce and sambal.
Top with peanuts, green portion of scallions and cilantro. Garnish with lime wedges.