MENUS
Featured Recipes: Mexican Cuisine
Verde Rice with Chorizo, Shrimp in Chipotle and Adobe Sauce & a Paloma Cocktail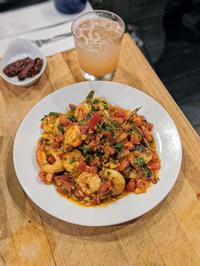 Yesterday, we were joined by Brendan from The County Theater for a Facebook Live session. We were inspired by The County's new documentary, which is available for streaming. The movie, Diana Kennedy: Nothing Fancy provides an intimate look at the leading expert on Mexican cuisine. The recipes below resonate with her cookbooks in that they include fresh and simple ingredients. Enjoy dinner and a cocktail as you watch this wonderful documentary about the self proclaimed "Mick Jagger of Mexican Cuisine".
Paloma Cocktail
1½ ounces reposado tequila
½ ounce Cointreau
3 ounces fresh squeezed grapefruit juice
1 ounce fresh lime juice
1 to 2 teaspoons agave syrupGrapefruit wedges
Ice cubes
Add ice to a cocktail shaker.
Add tequila, Cointreau, juices and agave.
Shake until mixed. Pour over ice; garnish with grapefruit wedge.
Verde Rice with Chorizo
2 tablespoons olive oil
2 tablespoons diced onions
1 teaspoon minced garlic
½ cup diced chorzo
1 cup rice
2 cups chicken stock
½ teaspoon salt
¼ cup minced parsley
¼ cup minced cilantro
Freshly cracked pepper
Add olive oil to a saucepan and bring to medium heat.
Cook onions and garlic until softened. Add chorizo; continue cooking until lightly browned.
Add rice; cook, stirring, until rice is coated, about 2 to 3 minutes.
Add stock and salt; bring to a simmer and cook, covered, until liquid is absorbed and rice is tender.
Stir in herbs; season with cracked pepper. Cover and let steam until fluffy.
Shrimp in Chipotle and Adobo Sauce
2 tablespoon olive oil
1 pound 16 – 20 shrimp, peeled and deveined
2 tablespoons minced garlic
¼ cup adobo sauce
1 tablespoon minced chipotle in adodo sauce
1 cup diced tomatoes
2 tablespoons lime juice
2 tablespoons minced cilantro
Salt and pepper
Add olive oil to a saute pan and bring to medium-high heat.
Cook shrimp, turning once, until lightly pink. Add garlic, continue cooking until almost cooked through.
Add adobo sauce, chipotles and tomatoes; bring to a simmer. Simmer until shrimp are cooked through but still tender.
Add lime juice and cilantro. Season with salt and pepper.
Serve over rice.
Learn More