MENUS
Featured Recipes: Celebrate Mom with a special menu
Mixed Green Salad, Sauteed Chicken and more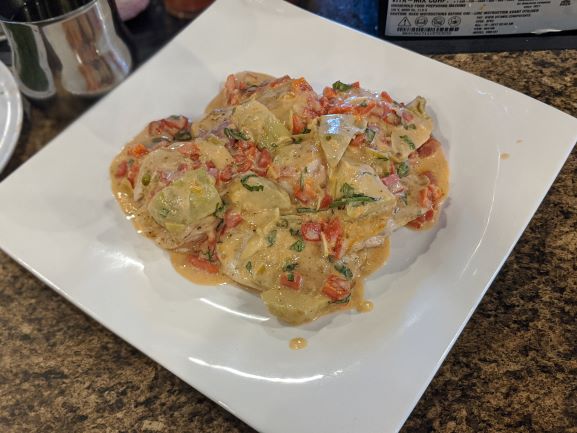 Mother's Day gives us an opportunity to treat mom specially, thank mom a little more and show mom some extra love. And while getting the perfect gift is a little tougher with stay at home orders in place, we can still make Sunday a beautiful day to remember. One way to do that is by cooking mom a meal with love. The menu below is perfect for a variety of skill levels and encourages children to participate. To top off this perfect meal, Mike Conti has provided us some wine pairing suggestions. So go ahead and take out the good china, pick some flowers from the garden and set a table to remember. Add a homemade card and this will be a Mother's Day celebration to remember.
And a special thanks to Visit Philly and NBC10 for the invitation to appear on Philly Live Weekends. If you would like to watch Denis demonstrate the menu below, check out our Facebook page for the video.
Mixed Green Salad with Goat Cheese and Shaved Almonds (serves 6)
Salad Dressing
2 tablespoons white wine vinegar
1 clove garlic, crushed
1 teaspoon Dijon mustard
1 teaspoon minced fresh thyme
6 tablespoons olive oil
Sea salt and freshly ground black pepper
Salad
6 cups mixed greens
½ small red onion, thinly sliced
½ cup crumbled goat cheese
¼ cup shaved almonds
Add vinegar, garlic, mustard and thyme to a small mixing bowl. Season with salt and pepper.
Slowly whisk in the olive oil.
Transfer dressing to a small bowl.
Add greens, onion, goat cheese and almonds to the mixing bowl.
Toss in enough dressing to coat the leaves. Adjust seasoning.
Sauteed Chicken with Artichokes in White Wine and Tomato Cream (serves 6)
1 tablespoon olive oil
1½ pound chicken cutlets
2 shallots, sliced
1 clove garlic, minced
½ cup chicken stock
½ cup white wine
½ cup crushed tomatoes
½ cup heavy cream
1 cup canned artichoke hearts, drained and quartered
2 tablespoons heavy cream
Sea salt and freshly ground black pepper
Bring skillet to medium-high heat and add the oil. Season the chicken with salt and pepper.
Cook, turning once, until center is just done. Transfer to a serving platter; keep warm.
Add the shallots and garlic and cook until nicely softened.
Add the wine and cook until reduced by half.
Add the stock, tomatoes and the heavy cream; bring to a simmer and cook until reduced to sauce consistency.
Add artichoke hearts; cook until heated through.
Season with parsley, salt and pepper. Serve with chicken.
Roasted Baby Potatoes with Garlic and Rosemary (serves 6)
2 tablespoons olive oil
2 tablespoons minced fresh rosemary
1 tablespoons crushed garlic
1 teaspoon paprika
1 teaspoon onion powder
1½ pounds baby potatoes (red, fingerling, Yukon gold), halved
Sea salt and freshly ground black pepper
Preheat oven to 375 degrees.
Whisk together the oil, rosemary, garlic and onion powder. Let stand 10 minutes.
Toss in potatoes; season with salt and pepper.
Transfer to a baking sheet. Roast until tender and golden brown. Adjust seasoning.
What wine to choose?
A French Wine! Mike Conti suggests:
A White Bordeaux
A Sancerre from the Loire Valley
A White Bordeaux is a wine that is usually a blend of Sauvignon Blanc and Semillon - and goes great with chicken! Sancerre is 100% Sauvignon Blanc - and a bit pricier - but an elegant wine for something a bit more special.
For the "New World" Wine Lovers
A California Sauvignon Blanc
A Chilean Sauvignon Blanc
The California wine has a bit more texture, but still has the crisp acidity that Denis' chicken dish deserves! The Chilean wine is much lighter, and a great value!
Wines are hard to find these days, but here are some specific recommendations:
Chateau Pilet - Can be purchased at McCaffrey's in Newtown
Jean Marc Crochet Sancerre - Can be purchased at Altomonte's in Doylestown
Tangent Sauvignon Blanc - Can be purchased at McCaffrey's in Newtown
The Applicant Sauvignon Blanc - Can be purchased at McCaffrey's New Hope
Learn More