MENUS
Featured Recipes: Get Ready for Cinco de Mayo!
Grilled Fish Tacos, Charred Tomato Salsa and More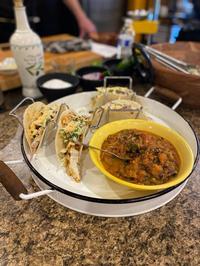 These recipes will be demonstrated at our first ever Facebook Live virtual class on May 2nd at 3:00. Please check out our Facebook page for the demonstration (either live or watch the video). When we were initially forced to stop live classes due to COVID19, we adapted by offering meal packages to families during this crisis. However, from the beginning, we talked about reconnecting with our customers through a virtual event. And while the seed was planted early on, it wasn't until we were approached by Visit Philly and Visit Bucks that we decided to push ourselves out of our comfort zone and take a leap of faith. And so are very excited for the opportunity to help get you ready for Cinco de Mayo with the perfect menu. We are certainly looking forward to in-studio classes when health and safety permit, but until then thanks for joining us virtually and for your support during these uncertain times.
Grilled Fish Tacos (makes 6 tacos)
1 pound white fish fillets (tilapia , halibut, mahi mahi, etc.)
2 tablespoons olive oil
Juice of 1 small lime
1 clove garlic , minced
1 tablespoon Mexican spice mix (see recipe below)
12 corn tortillas, warmed
Sea salt and freshly ground pepper
Season the fish with salt and pepper; add a glass bowl. Whisk together the oil, lime juice, garlic, chili powder, cumin, paprika, cayenne. Pour over fish, turning fish to coat with marinade. Let stand 20 to 30 minutes.
Preheat grill pan to medium-high heat. Grill fish, turning once, until just cooked through to the center.
Transfer to a platter; let rest 2 to three minute. Cut into strips.
Serve on warm tortillas (2 tortillas per taco), topped with Charred Tomato Salsa, Cilantro Lime Slaw and Spicy Aioli.
Charred Tomato Salsa (yields 1 quart)
1 pound (4 medium) plum tomatoes, halved
2 jalapeño or serrano peppers
2 garlic cloves, unpeeled
½ yellow onion, cut into 4 wedges
¼ cup roughly chopped cilantro
2 tablespoons lime juice, or to taste
1 teaspoon agave, optional
Sea salt and freshly ground black pepper
Preheat a broiler to high. Place the plum tomatoes, jalapeños, garlic and onion on a baking sheet. Broil, tuning ingredients once, until charred all over, about 8 to 10 minutes.
Transfer vegetables to the bowl of a food processor and let cool completely. Add the cilantro, lime juice and agave, then pulse until a chunky purée forms. Season with salt and pepper.
Cilantro Lime Slaw (yields about 1 quart)
1 pound thinly sliced cabbage (green and red)
½ small red onion, peeled and thinly sliced
¼ cup (packed) chopped cilantro
½ of a jalapeño, seeded and finely chopped
2 tablespoons fresh lime juice
2 tablespoon olive oil
Sea salt
Toss together the first six ingredients in a mixing bowl; season with salt. Let stand at least 1 hour (and up to overnight). Adjust seasoning and serve.
Spicy Aioli (yields about 1 cup)
½ cup sour cream
1/3 cup mayonnaise
Juice of 1 small lime
1 teaspoon sriracha hot sauce , or to taste
½ teaspoon garlic powder
½ teaspoon cumin
Sea salt
Stir together first six ingredients in a small bowl. Season with salt. Refrigerate until ready to serve.
Mexican Spice Mix
1T chili powder
2t oregano
2t cumin
2t sea salt
1t black pepper
1t garlic powder
Learn More