MENUS
The Many Faces of Zinfandel
Event Date: 8/27/2019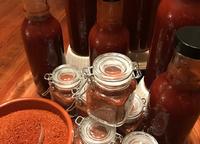 Dig deeper into one of the world's great wines.
Often a misunderstood wine, Zinfandel shoud not be confused with White Zinfandel, a completely different offering. Red Zinfandel is bold wine with deep flavors of berry jams, cherries and licorice. It is vinified throughout the world and like all great wines where it is grown and produced affects it's flavor and texture. Mike will feature six Zinfandels from around the world, highlighting the features that are common and the ones that make them distinct. It's a great opportunity to dig deeper into a great varietal.
Wine List
Bogle Vineyards Old Vine Zinfandel 2016
Havens Zinfandel Amador County 2016
Paul Dolan Vineyards Mendocino County 2016
Ridge Geyserville Zinfandel 2016
Peju Napa Valley Zinfandel 2014
Crispy Boneless Chicken Bites with Sweet Chile Glaze
Vegetable oil, for frying
2 chicken breasts, cut into cubes
1 cup flour
3 eggs, beaten
2 cups panko bread crumbs
½ cup rice vinegar
½ cup plus 2 tablespoons sugar
¼ cup water
3 tablespoon fish sauce
2 tablespoon white wine
3 cloves garlic, crushed
½ tablespoon dried crushed chili
1-½ tablespoon cornstarch mixed with 3 to 4 tablespoons water
Add vegetable oil to a heavy saucepan; bring to 350 degrees.
Dredge chicken in flour, then eggs, then panko. Fry until golden and cooked through, about 2 to 3 minutes. Drain on paper towels.
Add first vinegar, sugar, water, fish sauce, wine garlic and chili to a sauce pan; bring to a simmer. Cook until reduced by half. Stir in cornstarch slurry and cook until thickened. Let cool. Serve chicken topped with sauce.
Summer Saffron Scented Risotto Primavera with Herbed Vegetables and Parmesan
2 tablespoon olive oil
1 medium onion, finely diced
2 cloves garlic, crushed
1-¾ cups arborio rice
1 cup white wine
5 to 6 cups vegetable stock, heated
4 cups diced grilled vegetables
¼ cup grated parmesan cheese
1 tablespoon butter
Salt and pepper, to taste
Bring large heavy pot to medium heat. Add the oil and the onions and cook until translucent; add garlic and cook 1minute more.
Add the rice, cook until nutty. Deglaze with the wine; cook until reduced by half. Add the stock in 1 cup increments, stirring often. Season with salt and pepper.
When the rice is just tender, stir in the vegetables, parmesan and butter; adjust seasoning.
Mesquite Smoked Beef Brisket with Spiced Zinfandel BBQ Sauce and Tangy Slaw
½ cup brown sugar
1/3 cup salt
1/3 cup smoked paprika
2 tablespoons garlic powder
2 tablespoon dry mustard
2 tablespoons ground black pepper
One (14- to 16-pound) packer-cut brisket, lightly trimmed
Sift together the first six ingredients; season brisket generously with rub.
Preheat smoker to 200 degrees; fill the pan with water and the wood box with mesquite chips. Place beef into smoker; cook, replenishing wood chips and water as needed, for 6 to 7 hours. Remove; wrap in heavy duty aluminum foil. Place back in smoker and continue cooking until internal temperature reaches 190 degrees. Remove from smoker; let rest 1 hour.
Memphis Style Sauce
4 cups tomato sauce
1 cup cider vinegar
1 cup Coca-Cola
¼ cup steak sauce
¼ cup yellow mustard
¼ cup fresh lemon juice
3 tablespoons molasses
3 tablespoons soy sauce
3 tablespoons Worcestershire sauce
1 teaspoon Tabasco
½ teaspoon liquid smoke
½ cup packed dark brown sugar
1 teaspoon chili powder
1 tablespoon ground black pepper
1 tablespoon mustard powder
1 teaspoons garlic powder
Salt to taste
Combine all the wet ingredients in a large, non-reactive saucepan and slowly bring to a boil, uncovered, over medium heat.
Meanwhile, combine the dry ingredients in a bowl and mix. Reduce the heat and stir the dry ingredients into the sauce mixture. Gently simmer the sauce until thick, concentrated, and full flavored, about 30 minutes.
Bittersweet Chocolate Tarts with Vanilla Ice Cream
8 tablespoons unsalted butter, cold
1-1/3 cups all-purpose flour
½ teaspoon salt
1/8 teaspoon baking powder
1-½ teaspoons cider vinegar
3 tablespoons ice water, or as needed
1 cup heavy cream
½ cup milk
10 ounces bittersweet chocolate, chopped
2 tablespoons sugar
¼ teaspoon salt
2 large eggs, lightly beaten
Cut the butter into cubes; keep refrigerated. Place the flour, baking powder and salt in the bowl of a food processor and pulse to combine. Add butter; pulse until the mixture resembles a coarse meal. Add cider vinegar and two tablespoons of water; pulse to combine. If dough does not hold together add remaining water and pulse again. Turn the dough out onto a board and gather it up in a ball. Flatten to a disc, wrap in plastic and let rest in refrigerator.
Preheat oven to 325 degrees. Roll dough out to a 12-inch round. Transfer to a 9-inch tart pan; trim excess dough. Line with parchment; fill with pie weights. Bake until set and golden, about 18 to 20 minutes. Remove from oven; let cool slightly. Remove parchment and weights.
Heat the heavy cream and milk in a pot over medium-low flame, until just simmering. Remove from heat; pour over chocolate; let stand five minute. Gently stir until smooth. Add sugar, salt and eggs.
Pour chocolate mixture into prepared shell. Bake until just set, about 25 to 30 minutes. Remove; let cool.