MENUS
The Food and Wine of Italy
Event Date: 10/15/2019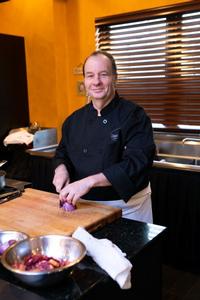 WHIPPED RICOTTA CROSTINI WITH SAUTEED PEAR, ROSEMARY AND WALNUTS
INGREDIENTS
8 slices baguette
2 TB olive oil
Whipped Ricotta
1/2 cup ricotta
1 TBS heavy cream
1 tsp honey
Sea salt & fresh ground pepper to taste
1 tsp lemon juice
¼ tsp crushed red pepper
Pear mixture
1 pear diced
2 TB butter
2 TB honey
1/8 tsp cinnamon
1 TB walnuts chopped
Sea salt & pepper to taste
1 tsp lemon zest
1 TB lemon juice
For the crostini, brush or drizzle bread with olive oil and season with salt and pepper. Toast in oven or sauté pan.
To make the whipped ricotta, add all ingredients and whip until smooth.
For the pear mixture, heat pan over medium heat add butter and lightly brown. Add pears cinnamon and lemon, sauté until tender and remove from heat. Add walnuts, lemon zest and rosemary then season with salt and pepper
Top crostini with ricotta then pear mixture.
PORCINI AND SAUSAGE RISOTTO
INGREDIENTS
1.5 cups Arborio rice
½ onion chopped
4 oz soaked, drained porcini mushrooms-reserve water
1 TB olive oil
6 oz sausage cut
1 cup white wine
5 cups chicken or vegetable stock
Sea salt & fresh ground pepper to taste
2 TB grated parmesan
Sauté onion in olive oil until translucent, add sausage and porcini cook for 3 minutes.
Add rice and mix.
Add enough wine to cover mixture and simmer, stirring until it evaporates.
Add stock enough to cover. Simmer, stir and repeat 2 times.
Season and add cheese
BEEF BRAISED IN BAROLA W/ CARROTS AND CIPOLINNI ONIONS
INGREDIENTS
2 lbs chuck roast
Sea salt & fresh ground pepper to taste
1 TB olive oil
3 cloves garlic chopped
3 cups cleaned cipollini onions
3 cups cut or baby carrots
¾ cup red wine
2 cups brown stock
2 sprigs of thyme
1 bay leaf
Season beef and in an oven safe pan or Dutch oven brown beef on both sides.
Remove beef, add garlic and sauté for 1 minute.
Add cipollini onions and carrots, add back beef and deglaze with wine
Add stock, bay leaf and thyme, braise in a 325 degree oven for 2 ½ - 3 hours or until beef is tender, serve.
TIRAMISU
INGREDIENTS
2 dozen lady fingers
3 egg yolks
½ cup sugar
1 cup heavy cream
1 cup mascarpone cheese
2 cups espresso
2 TB cocoa powder
Whip egg yolks with ¼ cup sugar until yellow pale and thick.
Fold in mascarpone.
Whip heavy cream with remaining sugar to medium peaks, fold into egg mixture.
Dip lady fingers into espresso and line a rectangle mold, cover w/ half of mixture
Repeat with lady fingers and mixture, dust with cocoa powder
Chill for 6 hours until firm, cut and serve.