MENUS
Featured Recipe of the Week: Stuffed Pork with Sherry Sauce
Food and Wine of Oregon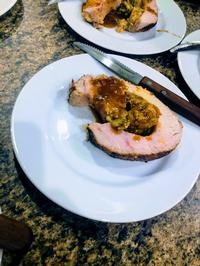 Here is a recipe that would be a nice addition to any holiday table!
Stuffed Tenderloin of Pork with Sherry Sauce
2 tablespoons olive oil, divided
½ pound bulk sage sausage
½ large onion, diced
1 stalk celery, minced
1 Granny Smith, peeled and diced
2 cloves garlic, crushed
1 tablespoon Bell's seasoning
1 bag cornbread stuffing mix
5 cups chicken stock, or as needed
Salt and pepper, to taste1 tablespoon olive oil
2 large pork chops
2 shallots, minced
½ cup sherry or white wine
¾ cup rich chicken stock
¼ cup heavy cream
Fresh thyme
Bring a saute pan to medium heat and add 1 tablespoon of the oil. Cook the sausage, breaking up with a spoon, until nicely browned. Remove from pan. Add the remaining oil; cook onion, celery, apples and garlic until nicely softened and light golden brown. Add the garlic and seasoning; cook 1 minute more.
Add stuffing mix to a large mixing bowl; toss in sausage, vegetables and enough stock to moisten the bread. Season with salt and pepper. Let cool completely.
Make a small cut in the side of the pork chops. Working the knife back and forth, make a pocket in the chop (be careful not to make the opening of the pocket too large). Stuff the filling into each chop; gently press down on the chop to flatten (don't push filling out).
Preheat oven to 350 degrees. Bring sauté pan to medium heat and add the oil. Season chops with salt and pepper. Cook pork, turning once, until golden brown on each side. Transfer to a baking sheet and place in oven. Cook until pork reaches 150 degrees. Let rest five minutes.
Add sherry to pan. Cook until reduced by half. Add the stock and cream. Cook until sauce is reduced. Season with thyme, salt and pepper. Serve with pork.