Featured Recipe of the Week: Soups for Fall
Tuscan Vegetable Soup and Butternut Squash Soup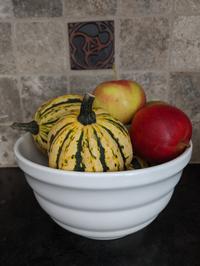 This coming Monday will be the start of fall. But I am glad that I don't need to wait until Monday to enjoy some beautiful fall weather. The last couple of days have been gorgeous with crisp temps in the mornings and sun-filled afternoons. With the cooler temps, I find myself using the grill less and the stove or oven more. I also find myself craving a cup of warm soup and a crust of bread. So this week, we are sharing two delicious soup recipes.
Our Tuscan Vegetable Soup is a hearty soup that comes together quickly with ingredients that are readily available. Sounds like a recipe for a perfect weeknight meal.
And our Butternut Squash Soup highlights fall's bounty. For the last couple of weeks, our farm share has included several varieties of squash, like butternut, spaghetti and delicata. Of course sometimes, I simply roast these vegetables with olive oil, salt, pepper and some herbs from the garden, but this recipe takes it a step further.
So enjoy all that the season has to offer - outside and at your table!
Tuscan Vegetable Soup with Pancetta and White Beans
¼ pound pancetta
1 medium onion, diced
2 stalks celery, diced
2 large carrots diced
2 cloves garlic, crushed
2 cups diced tomatoes
1 cup string beans, cut into ½-inch pieces
½ cup barley, rinsed
1 (14-ounce) can small white beans
3 quarts vegetable stock, or as needed
1 sprig fresh rosemary
1 cup frozen peas
Parmesan cheese
Salt and pepper
Add pancetta to a heavy Dutch oven and bring to medium-low heat. Cook until the fat is completely rendered. Drain all but 2 tablespoons of fat from the pan.

Add the onions, celery and carrots; cook until slightly softened. Add the garlic and cook 1 minute more.

Add the stock, tomatoes, string beans, barley, beans and rosemary sprig. Bring to a simmer and cook until vegetables are tender.

Add peas and cook until heated through. Season with rosemary, salt and pepper. Serve with cheese.
Butternut Squash Soup
1 large butternut squash
2 tablespoons olive oil
1 large onion, diced
2 stalks celery, diced
2 carrots, diced
2 cloves garlic, minced
1 quart chicken stock, or as needed
1 medium sweet potato, peeled and diced
½ cup cream
1 teaspoon finely ground fresh rosemary
sea salt and freshly ground pepper
Preheat the oven to 375 degrees. Split the butternut squash in half lengthwise and scoop out the seeds. Place cut-side down on a sheet pan lined with parchment paper. Roast until completely tender (a paring knife should easily pierce the flesh), about 45 minutes. Remove from oven and let cool completely. Scoop out the flesh and reserve. Discard the skins.

Bring a heavy stockpot to medium heat and add the oil. Cook the onion, celery, and carrots until completely tender but not browned, about 10 minutes. Add the garlic; cook 1 minute more.

Add the stock, butternut squash and sweet potatoes. Bring to a gentle simmer and cook, covered, until the vegetables are completely tender, 20–25 minutes.