MENUS
Featured Recipe of the Week: Seared Ribeye Steaks with Brandy Peppercorn Pan Sauce
Celebrate Dad with a home made meal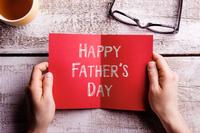 Father's Day, the age-old tradition celebrating all dads, gives us a chance to thank these special men, to acknowledge their contributions in our lives and to give them a little TLC. And while there are many ways to celebrate, a home cooked meal may just be the perfect way to honor DAD! Show him you love him by taking the time to make him a memorable dinner. Let's face it, any celebration that ends in the kitchen around a table is bound to yield wonderful conversations, family remembrances and lots of love.
But now that you have decided to pamper dad with a nice dinner, you need to plan that delicious menu? How about upping the game and celebrating with steak. The recipe below is not difficult, but makes the most of quality ingredients. Pair with some roasted potatoes, in-season vegetables and a crusty loaf of bread and you are all set.
So who else is celebrating dad this weekend and how will you celebrate?
Seared Ribeye Steaks with Brandy Peppercorn Pan Sauce
4 (8-ounce) ribeye steaks
2 tablespoons olive oil
2 shallots, minced
¼ cup brandy
1 cup veal stock
1 tablespoon Dijon mustard
¼ cup heavy cream
3 tablespoon brined green peppercorns
Fleur de sel and cracked tri-peppercorn mix
Preheat oven to 400 degrees. Rub steaks with a little oil; season with salt and pepper.

Bring a heavy skillet to medium heat and add the remaining oil. Cook the steaks, turning once, until golden brown.

Transfer to oven and cook to desired doneness (130 degrees for medium-rare). Remove pan from oven and transfer steaks to a serving platter to rest.

Place pan over medium heat and add the shallots; cook until softened. Carefully add the brandy (it may flambé) and cook until reduced by half.

Add the stock, cream and green peppercorns; bring to a boil, reduce heat and simmer until thickened and flavors have combined. Season with salt and pepper. Serve over steaks.