MENUS
Featured Recipe of the Week: Pizza with Roasted Peppers, Mozzerella and Basil
Exciting start to 2019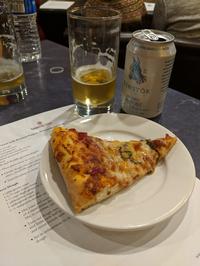 Beer drinkers are now learning to pair the right food with their cold beer.
Already over 3 weeks into 2019 - that's hard to believe! But in that time, Conquering Cuisine has been busy, thanks to our growing number of supporters. We found that during the last few months of 2018, our classes for January, February and even March really filled up as customers purchased cooking experiences for their loved ones and maybe even themselves.
So where have we taken these culinary adventurers this January. They have experienced the wine and food of Germany, Spain and the Burgundy and Bordeaux regions of France (and even sampled local wines from Karamoor Estates and beer from Belgium). They have feasted on Cajun and Creole cuisine, Italian foods, breads and pizzas. Some honed their knife skills during our hands-on Culinary Skills series, others learned the value of a Dutch Oven and some parents and children cooked together during a class designed to teach basic skills to all ages while preparing healthy delicious meals. And in between these classes, we have found time to cater corporate breakfasts and luncheons, host a private dinner party and teach a group of women at their monthly cooking club. Surprisingly we even managed to have a photo shoot so that we could properly represent our cooking studio on social media and our website.
Sound exhausting? Maybe, but adventures usually are! And fortunately they are exhilarating too! So thanks for joining us on our journey this year! We are happy to have you along for the ride. And don't worry, we are continually adding new classes to meet the growing demand.
This week, please enjoy the pizza recipe below. This was served to those who attended the Belgian Beer and Food Pairing. Denis shared his tips on making quality pizza at home, while the guys from Doylestown Beer Authority poured Einstok White Ale to eager attendees. Pizza and beer - sounds perfect for a Friday night, right?
Thin Crust Pizzas with Roasted Peppers, Mozzarella and Basil
1 batch pizza dough
4 cups basic pizza sauce
1 cup roasted peppers (piquillo peppers work well)
1½ cups grated mozzarella cheese
¼ cup grated parmesan cheese
Fresh basil
Sea salt and freshly ground pepper
Place pizza stone in center of oven; preheat oven to 500 degrees.

Divide dough into two pieces. Roll each out to a 14-inch round. Transfer to a pizza peel. Top with sauce, meatballs and mozzarella. Sprinkle with parmesan; season with salt and pepper.
Transfer pizza to stone; bake until golden and crisp. Remove from oven; top with basil.

Tip: If making the pizza sauce at home, try toasting the spices in olive oil for a short time before adding high quality tomatoes, like a San Marzano.
Pizza Dough
1 tablespoon yeast
1-1/3 cups warm water
3-½ cups high-gluten or bread flour
1 tablespoon sugar
1 tablespoon olive oil
1-½ teaspoons kosher salt
Mix yeast and water in a small bowl; let stand five minutes. Add the flour, sugar and salt to the bowl of a stand mixer fitted with a dough hook. With mixer on medium-low speed, add water to flour. Mix to combine, adding more water or flour as needed to form a ball. Knead dough for 8 minutes.

Turn out dough onto floured board and knead an additional minute by hand. Divide dough in two and form each half into a ball. Place each half in separate floured bowls, sprinkle with additional flour and cover loosely with plastic wrap.