MENUS
Featured Recipe of the Week: My Favorite Apple, Sage and Sausage Stuffing
A Traditional Thanksgiving Table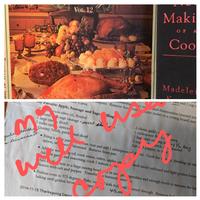 And once again it is the Holiday Season! With Thanksgiving so late this year, some have decided to fast forward to Christmas. But why not relish all this season has to offer: delicious food and family time without the added stress of gift giving. Family traditions bring further joy to the season and many have to look no further than their Thanksgiving table to see the definition of tradition whether it is grandma's apple pie or mom's sweet potato casserole, etc. The stuffing recipe shared below has been on repeat at our Thanksgiving table for years. And with ingredients like Bell Seasoning and celery, you can understand why is the epitome of a traditional Thanksgiving side dish. Additionally, the sausage and apple add such wonderful flavor and texture to this stuffing recipe. So consider adding this to your Thanksgiving table. While it may be a new recipe to you, it will definitely taste familiar.
My Favorite Apple, Sausage and Sage Stuffing
2 tablespoons olive oil, divided
1 pound bulk sage sausage (or sweet Italian)
1 large onion, diced
2 stalks celery, minced
1 Granny Smith, peeled and diced
2 cloves garlic, crushed
1 tablespoon Bell's seasoning
1 bag plain stuffing mix (up to a half bag more if needed)
5 cups turkey stock, or as needed (I recommend More Than Gourmet)
Salt and pepper, to taste
Bring a saute pan to medium heat and add 1 tablespoon of the oil. Cook the sausage, breaking up with a spoon, until nicely browned. Remove from pan. Feel free to pulse in a food processor for a consistent size.

Add the remaining oil; cook onion, celery, apples and garlic until nicely softened and light golden brown. Add garlic and seasoning; cook 1 minute more.

Add stuffing mix to a large mixing bowl; toss in sausage, vegetables and enough stock to moisten the bread. Season with salt and pepper. Transfer to a buttered casserole. Stuffing can be made a day in advance and refrigerated at this point.

Preheat oven to 375 degrees. Bake, covered with foil, until warmed through. Remove foil and continue baking until golden brown and crispy on top.