MENUS
Featured Recipe of the Week: Marinara Sauce
Let's head back to the basics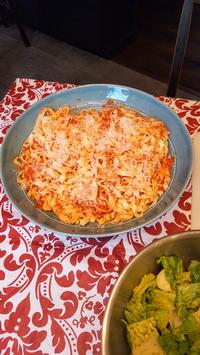 You will find a lot of variety in our class offerings. Over the last couple of weeks, we have spanned the globe, from our classes on Thai Street Food to Morocco and Northern Africa to The Argentinean Grill. But we also go back to the basics with our Essential Skills for Home Cooks series. In these classes, our culinary adventurers learn everything from knife skills, to creating stocks to braising.
This week's featured recipe is a basic Marinara Sauce. It is quite versatile so is a great addition to your home recipe box. Marinara Sauce also freezes well, so make a big batch and freeze in smaller quantities so you have it when you want to make pizza, pasta, chicken parmigiana, etc. Who needs a jar, when you have this simple recipe in your back pocket.
Marinara Sauce
2 tablespoon extra-virgin olive oil
1 shallot, minced
1 clove garlic, minced
Pinch of crushed red pepper
½ cup red wine
One 28-ounce can crushed San Marzano tomatoes
Fresh basil, thinly sliced
Salt and pepper
Add oil to a medium saucepan and bring to medium-low heat. Cook the shallot, garlic and red pepper until light brown.

Add the wine and cook until reduced by half. Add the tomatoes and bring to a simmer; cook until thickened.

Season with basil, salt and pepper.