MENUS
Featured Recipe of the Week: Italian Vegetable Soup with Cheese Tortellini
Encouraging a healthy approach to food and teaching a life skill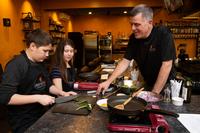 Teaching the next generation
At Conquering Cuisine, some of our culinary adventurers can't even drive themselves to the grocery store for ingredients. Ranging in age from about 9 - 13, these kids are a great age for learning and have participated in our Kids Cooking Class Series, Parent/Child Classes and Summer Kids Camps. Teaching kids to cook presents the opportunity to instill in children a healthy approach to food, while teaching them a life skill that will stay with them through adulthood. Plus a hands-on, in-person approach allows them to interact with the instructors and ask questions versus only using social media and YouTube as a resource.
Last Sunday, we started our Kids Cooking Class Series with a focus on vegetables. One perfect showcase for vegetables is soup (perfectly fitting as I sit writing this on a bitterly cold Thursday). A wonderful quality about cooking soup is that a soup recipe is often malleable to fit one's taste. Want to make this Italian Vegetable Soup vegetarian, leave out the sausage. Don't like zucchini, use a pepper instead. Have a gluten allergy, substitute the tortellini with rice (will need to add earlier and cook longer). Once you know the process of making a soup, design it for your taste. Also fantastic is that soup can often be made with pantry and refrigerator items we have on hand. So if you decide that today is too cold to leave your house, then scour your pantry, refrigerator, and freezer so that you can enjoy a yummy, hot bowl of soup for dinner. Escape the cold as you venture into your kitchen!
And one more note about our kids classes, while our Kids Cooking Class Series, is sold out, we still have limited availability for our Parent/Child cooking classes. Additionally check back with us - we plan to add a School's Out Class over spring break, a mother-child class for Mother's Day and of course our popular Summer Camp.
Italian Vegetable Soup with Cheese Tortellini
1 tablespoon olive oil
¼ pound bulk sausage
3 green onions, sliced
1 small stalk of celery, diced
1 small zucchini, diced
2 garlic cloves, thinly sliced
3 to 4 cups vegetable stock
1 cup canned diced tomatoes, with juice
½ cup small white beans, rinsed and drained
1 cup frozen cheese tortellini
1 tablespoon minced basil
Sea salt and freshly ground pepper
Bring a soup pot to medium low-heat and add the oil.

Cook the sausage, breaking up with a spoon, until browned.

Add the onions, celery and zucchini; cook until softened, about 5 to 7 minutes.

Add the garlic and cook 1 minute more.

Add the stock, tomatoes and white beans; bring to boil, reduce heat and simmer until vegetables are tender, about 8 to 10 minutes.

Add the tortellini; cook until tender, about 5 to 6 minutes. Season with basil, salt and pepper.