MENUS
Featured Recipe of the Week: Herb Rubbed Chicken with Grilled Portobella Mushrooms
Celebrating the 4th of July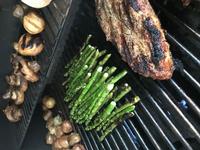 What will your grill look like this holiday?
Hard to believe it is already July 4th! How are you celebrating? A parade? Fireworks? A cook-out? Or all of the above! Regardless of what you have planned for today, we hope that your celebration involves good friends, good food, and good times. And we think summer celebrating is a great time to use your grill. Who wants to turn on their oven on a hot, summer day? And grilling often means less clean-up. But the best reason to use the grill is that grilling yields a smoky, caramelized crust and a tender interior.
Think about trying this easy, but delicious recipe for your guests tomorrow. Entertaining doesn't have to be laborious or fussy. Pick up a few cheeses and fresh berries to serve when your guests arrive. Then serve the chicken and mushrooms with some grilled potatoes. And for dessert, slice up a watermelon and store-bought strawberry shortcake.
Grilling with friends - sounds like a traditional American 4th of July. Enjoy!
Herb Rubbed Chicken with Grilled Portobello Mushrooms
2 tablespoons extra virgin olive oil
2 tablespoons chopped fresh parsley
2 tablespoons finely chopped fresh cilantro
1 tablespoon minced rosemary leaves
1 garlic clove, peeled and minced
Pinch of crushed red pepper
Salt and pepper
4 chicken tenders
2 portobello mushroom caps
In a small bowl mix together the olive oil, parsley, cilantro, rosemary, garlic and red pepper. Season with salt and pepper.

Coat chicken and portobellos with herb mixture; let stand 10 to 15 minutes.

Preheat grill to medium-high heat. Cook chicken until internal temperature reaches 160 degrees. Grill portobellos until charred and tender.

Remove from heat; serve