MENUS
Featured Recipe of the Week: Grilled Shrimp with Romesco Sauce
Happy Memorial Day!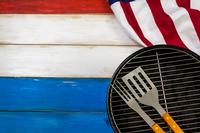 Memorial Day is most importantly a time to honor those who have sacrificed their lives for our freedoms, but it is also the unofficial start to summer. And with summer, we head back outside. Even our kitchens move outdoors as we light up the grill. Cooking over a flame may be a primitive style of cooking but it is certainly delicious.
Over the next couple of months Conquering Cuisine will be offering several classes focused on grilling. In Part IV of our Culinary Series, we will teach the grilling essentials from the type of proteins best suited for the grill to the proper sauces and marinades to accompany them. Or join us in mid-June and learn about pairing the right craft beers and cocktails with your grilled menu. Then as the summer continues, we will highlight specific grilled menus that celebrate world flavors from American cooking to South of the Border, Mediterranean and Thai. So whether or not you are traveling abroad this summer, you can still experienced foods from around the globe.
We invite you to join us for these culinary adventures and then return home to light up the grill and enjoy the best of what summer has to offer by gathering outside with family and friends. In the meantime, try the recipe below - a perfect bite to kick off your gathering or serve with a salad as a light meal on a hot day.
Happy Memorial Day!
Grilled Shrimp with Romesco Sauce
¼ cup diced roasted peppers
¼ cup diced fire-roasted tomatoes, drained
1 garlic clove, minced
¼ cup finely chopped almonds
1 tablespoon sherry vinegar
1 teaspoon honey
½ teaspoon smoked Spanish paprika
3 tablespoons extra virgin olive oil
Salt and pepper
10 to 12 large shrimp, peeled and deveined
1 tablespoon barbecue rub
Crusty bread, sliced
Add first eight ingredients to the bowl of a food processor; process until just smooth.

Preheat grill to medium heat. Drizzle shrimp lightly with oil; toss with barbecue rub; let stand.

Place bread on grill; cook until lightly charred. Remove; transfer to a serving plate.

Grill shrimp, turning once, until center is just cooked through. Serve on bread; top with sauce.