MENUS
Featured Recipe of the Week: French Citron Pound Cake
Enjoy a perfect springtime treat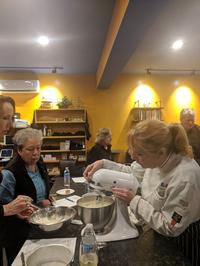 Chef Catherine at work
For the last six months or so, Chef Catherine has been sharing her love of French cuisine and baking with some of our culinary adventurers. In these hands-on classes, our adventurers have made petits gateaux, crepes, buche de noel, cream puffs, and most recently, pound cake. While very traditional, pound cake is also quite magical because of its versatility. It is great simply iced, or layered, in cake pops, for petit fours, in French toast, or marbled and even makes a beautiful gift. It is the perfect canvas for your imagination.
The recipe below is for a French Lemon Pound Cake. It is a perfect cake as we shed our winter layers and enter into spring because of its lightness that showcases blueberries and raspberries which will soon be coming into season. Personally for me, every year I am lucky enough to have an open invitation from good friends to pick blueberries from their dozen or so blueberry bushes. This year, I intend to venture beyond smoothies and make this perfect pound cake that I know every member of my family will love.
The French Citron Pound Cake
This is a light cake everyone will love. You can sprinkle in a few berries, but that's it. Batter is too light to layer as for the Pound cake. Glaze as desired, after soaking.
For a 6 to 7 inch round pan or a long cake pan . You can multiply recipe by 2. You'll have enough for a 12 inch pan or a 10 inch and a few small muffins.
3 large free range eggs
a pinch of salt
200 g sugar
zest from 2 lemons
95 g heavy cream
190 g unbleached flour
1/2 teaspoon baking powder
1 Tbs Dark rum
Squeeze fresh lemon. Mix sugar and lemon zest and leave to rest 10-15 min
70 g melted butter, room temperature
For the lemon glaze soak
150 g water
75 g sugar
Juice of a lemon
Method
Whip at full speed whole eggs with sugar for about 7 minutes until pale and fluffy

Add cream slowly, rum, mix. Slowly add flour + baking powder (pre-mixed) while mixing to have a nice homogenous batter.

Last add melted butter (cooled down to room temperature), transfer to a buttered + floured pan. Bake in the oven 50 to 60 min at 140C (or until a knife comes out clean of it).
Prepare the syrup. In a saucepan heat up sugar and water until it boils. Let it cool down and then add lemon juice. When the cake comes out of the oven, glaze it with the lemon syrup/glaze with a brush (Cake acts as a sponge and will absorb it all). Then glaze.
Basic lemon or lime glaze: 2 cups of confectioners sugar, juice of a lemon. Simple effective, transparent.
For a more opaque glaze, which can be colored: 2 cups confectioners sugar, 2 to 3 T cream, 2 T corn syrup, 1/2 egg white, juice of a lemon, 1 T liquor of choice, 1 tiny drop food coloring. Whisk everything together, pour on cake.

Basic jelly glaze: Simple and great. Heat apricot jam, sieve, add lemon, brush cake.

Frosted berries: Lay blueberries or raspberries in a bowls with one egg white. Drain. Place in a ziplock bag with a cup granulated sugar. Shake well. Let rest in fridge for an hour.
Frosted rose petals: brush petats with egg white, then sprinkle with sugar, let dry;
Bon appetit! Chef Catherine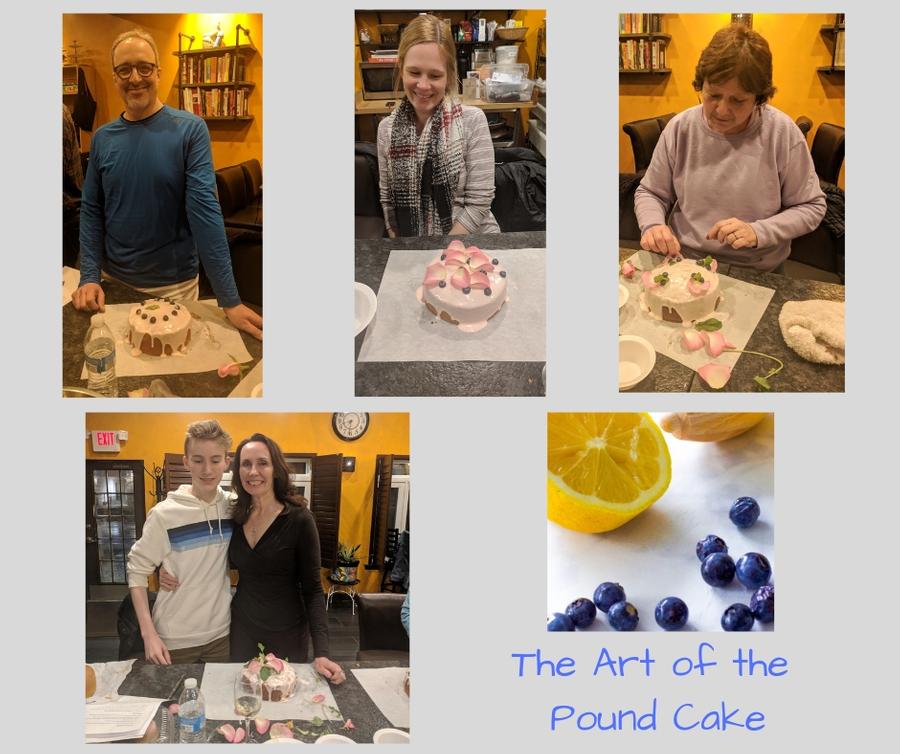 The Work of our Culinary Adventurers