MENUS
Featured Recipe of the Week: Crispy Fish Sandwiches with Tomato, Lettuce and Homemade Tartar Sauce
Kids Camp Fun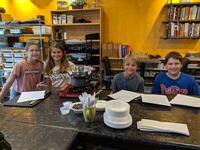 Cooking Camp Fun
The second offering of our Kids Summer Cooking Camp brought a new group of kids into Conquering Cuisine. It is fun and rewarding to pass on a valuable life skill to the kids, but is it also very satisfying to see them try new foods and love new foods! We certainly hope they head into their own kitchens and continue to explore different recipes and foods.
This fish sandwich was very popular with this week's crew. I have additional intel because my niece, nephew and their friends were at camp. So please invite your children into the kitchen and try this recipe. Bon Appetit!
Crispy Fish Sandwiches with Tomato, Lettuce and Homemade Tartar Sauce
¼ cup mayonnaise
1 tablespoon sweet relish
½ tablespoon minced fresh dill
½ tablespoon finely chopped fresh parsley
½ teaspoon lemon juice
½ teaspoon sugar
Salt and pepper
1 cup flour
2 eggs, mixed with a little water
1 cup panko bread crumbs
3 tilapia filets
Hamburger Rolls
Shredded Lettuce
Tomato Slices
Stir together the mayonnaise, relish, dill, parsley, lemon juice and sugar in a small bowl. Season with salt and pepper.
Place flour and spices in a small bowl; mix.
Add eggs and bread crumbs to separate bowls.
Dredge fish in flour, then eggs, and then bread crumbs. Set aside.
Heat oil over medium heat until temperature reaches 350 degrees.
Fry fish in batches until crispy and golden. Remove from oil; drain.
On rolls with lettuce, tomato and tartar sauce.