MENUS
Featured Recipe of the Week: Chicken, Cabbage and Vegetable Spring Rolls and More
From our class: Wines of South Africa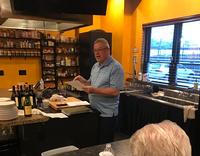 Wine Expert Mike Conti of From Stem to Learn
South Africa is part new world, part old world. Their wines often get grouped with New Zealand and South Africa but their winemaking history actually goes hundreds of years. Producers in the country are making wines with ripe fruit, earthy flavors and restrained finish - many at great value.
Chicken, Cabbage and Vegetable Spring Rolls
2 tablespoons peanut oil
1 medium onion, finely sliced
½ cup julienned carrot
3 cups shredded green cabbage
2 cloves garlic, minced
1 tablespoon grated ginger
1 can water chestnuts, diced
½ cup chopped green onions
½ tablespoon fish sauce
Juice of ½ lime
1 teaspoon Sriracha sauce, optional
2 cups shredded cooked chicken
1 package spring roll wrappers
Oil, for frying
Add oil to a wok and bring to medium-high heat. Cook the onion and garlic until softened.
Add the water chestnuts, cabbage, green onions, carrot, oyster sauce and Sriracha. Cook until cabbage is tender.
Stir in chicken; season with salt and pepper. Let cool.
Working in batches, place 2 tablespoons of filling on each spring roll wrapper. Fold nearest edge of wrapper over filling; fold left and right corners toward the center. Roll tightly and seal with egg wash.
Heat oil to 360 degrees. Fry spring rolls until golden brown. Place on paper towels to drain. Serve with favorite dipping sauce.
Scallops with Corn, Bacon and Cream Sauce
½ pound thick cut bacon, cut into lardons
4 ears fresh corn, cut from cob
½ cup heavy cream
1 pound sea scallops
½ cup dry white wine
Salt and pepper
Add bacon to a saute pan and bring to medium low heat. Cook, stirring occasionally, until fat has rendered and bacon is crispy, about 15 minutes.
Drain bacon, reserving fat. Add 2 tablespoons of bacon fat to pan and bring back to medium heat. Add corn; cook until tender, about 5 to 7 minutes.
Add cream; bring to a gentle simmer and cook until slightly thickened. Season with salt and pepper. Remove from heat; keep warm.
Bring a nonstick pan to medium high heat and add 1 tablespoon of reserved bacon fat.
Season scallops with salt and pepper. Cook, turning once, until golden brown on both sides. Remove from pan.
Deglaze pan with white wine. Add to corn mixture. Serve scallops over corn mixture.
Potatoes Au Gratin
3 tablespoons unsalted butter
3 tablespoons flour
3 cups chicken stock
1 teaspoon minced fresh thyme
Salt and pepper
3 pounds Yukon Gold potatoes, peeled and thinly sliced
2 cups shredded fontina cheese
Bring a saucepan to medium heat and add the butter. When melted, stir in the flour; cook 1 minute. Add the stock, whisking, until combined. Bring to a simmer; cook until thickened. Season veloute with thyme, salt and pepper.
Preheat oven to 350 degrees. Butter a 9-inch by 13-inch casserole dish. Layer the potatoes, pepper and cheese in the pan. Pour in the veloute sauce.
Cover casserole with foil. Bake 20 minutes; remove foil and continue baking until bubby and golden. Let stand 10 minutes.
Pate Sucrée (10 to 12-inch tart)
140 grams soft butter
80 grams confectioner sugar
1 whole egg
230 grams all-purpose flour
40 grams almond flour
pinch salt
½ teaspoon lemon juice
½ teaspoon vanilla extract
Cream together butter, egg and sugar in the bowl of a stand mixer fitted with a paddle.
Add flour, mix briefly. gather in a bowl and transfer to a clean work surface.
Knead very briefly to bring together. Wrap in plastic: refrigerate one hour before using.
Lemon Curd
6 tablespoons unsalted butter, softened at room temperature
1 cup sugar
2 large eggs
2 large egg yolks
2/3 cup fresh lemon juice
1 tsp. grated lemon zest
In a large bowl, beat the butter and sugar with an electric mixer, about 2 min. Slowly add the eggs and yolks. Beat for 1 min. Mix in the lemon juice.
In a medium, heavy-based saucepan, cook the mixture over low heat until it looks smooth. Increase the heat to medium and cook, stirring constantly, until the mixture thickens, about 15 minutes.
Remove from the heat; stir in the lemon zest. Transfer to a bowl; cover with plastic wrap.
Learn More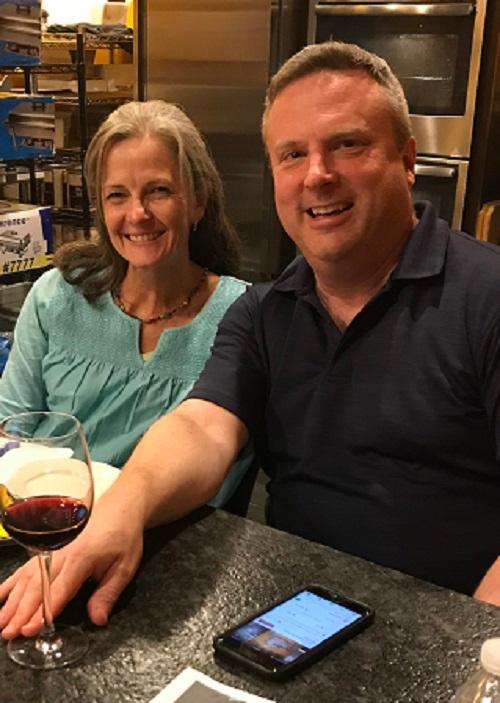 Exploring wine in a casual and comfortable atmosphere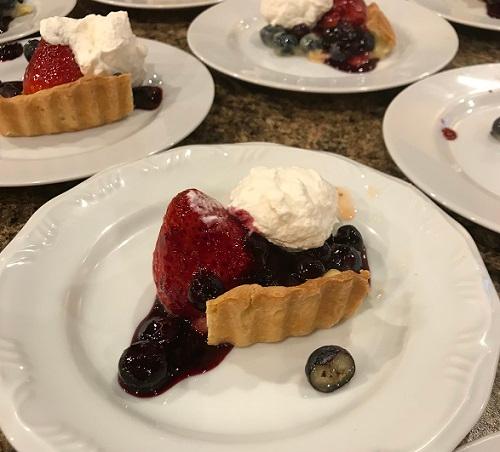 Ending the evening on a sweet note