MENUS
Featured Recipe of the Week: Brown Bread
Celebrating St. Patrick's Day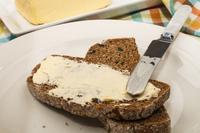 a tasty addition to any meal
In a few days, many of us will celebrate our Irish heritage - after all aren't we all just a wee bit Irish on St. Patrick's Day? And what better way to celebrate than with Irish food. And I am not just talking about corned beef and cabbage (although delicious!). Add in some tasty beers and good friends and we have the makings of a fun time. At the end of the week, some of our culinary adventurers will be doing just this!
Our Celebrating Irish Beer and Food class features updated versions of traditional foods served with a selection of craft beers. The menu for the class includes Crab, Spinach and Irish Cheddar Casserole with Toasted Brown Bread; Pear and Blue Cheese Salad with Candied Pecans and Poppy Seed Vinaigrette; Slow Roasted Pork Tenderloin with Hard Cider Reduction over Colcannon; and Croissant Bread and Butter Pudding with Caramel Sauce.
Below is our recipe for Brown Bread. For those not familiar with brown bread, I encourage you to try the recipe below. Brown bread is quintessential Ireland, a simple and delicious staple in many Irish kitchens. In fact I still remember my first taste from over 20 years ago. So this March 17th, celebrate being Irish and surround yourself with good friends, good food and good beer. Sláinte!
Brown Bread
1-¾ cups all-purpose flour
1-¾ cups whole wheat flour
2 tablespoons old-fashioned oats
2 tablespoons packed dark brown sugar
2 tablespoons molasses
1 teaspoon baking soda
½ teaspoon salt
4 tablespoons chilled butter, cut into pieces
¼ cup golden raisins, optional
¼ ground walnuts, optional
2 cups buttermilk, approximately
Preheat oven to 375 degrees. Combine first 7 ingredients in large bowl; mix well. Add butter; rub in with fingertips until mixture resembles fine meal.

Stir in raisins, nuts and enough buttermilk to form soft dough. Form into a round and transfer dough to a sheet pan lined with silpat.

Bake until bread is dark brown and tester inserted into center comes out clean, about 45 to 50 minutes (the bread should sound hollow when tapped on bottom).

Turn bread out of pan and cool right side up on rack.