MENUS
Featured Recipe of the Week: Apple Tart with Almond Filling
Enjoy the fruits of fall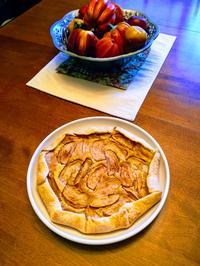 Fall is here and it is time to celebrate the season with outdoor farm festivals, corn mazes, hayrides and apple picking. Sounds fun, right? You took the whole family and now you have a delicious bushel of local apples to eat. Of course, apple slices are a nice healthy treat, but you can get more creative.
This Apple Tart with Almond Filling was recently made at our Parent/Child Cooking - Dinner for the Family class. During this class our culinary adventurers made this tart, a salad and a chicken with corn and tomato recipe. Their finished dishes were then packaged and our parent-child combos were sent home with their handiwork, along with some rice pilaf and rolls. They could certainly check dinner for the family off their list.
So consider extending the family fun and inviting your loved ones into the kitchen. This rustic tart comes together fairly quickly, looks beautiful and tastes even better. Serve with some vanilla ice cream and enjoy!
Apple Tart with Almond Filling
2 apples peeled, cored and sliced (a nice tart apple like Granny Smith work well)
½ cup sugar
1 tsp cinnamon
1 -9inch pie dough
Filling
6 TB soften butter
1/3 cup almond paste
½ cup sugar
2 eggs
1/3 cup cake flour
Egg yolk beaten with water or cream
Sugar
For the filling, with a mixer, mix room temperature butter and almond paste.

Add sugar and mix.

Add egg and beat on low.

Add flour, mix and set aside.

Toss apples with ¼ cup sugar and cinnamon.

Place pie dough on parchment-lined baking sheet pan.

Spread almond filling on dough, leaving ½ inch around the edges.

Place apples on top, fold in edges.

Brush edge with egg wash and sprinkle tart with remaining sugar.

Bake at 360 for 40 minutes remove and cool.