MENUS
Chamber Chopped
Simple, Healthy Recipes
Event Date: 10/17/2019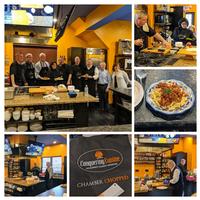 Chik'n Salad (Plant Based Chik'n Salad recipe courtesy of Jim McCormic, Doylestown Health)
Ingredients
1 cup Chopped garbanzo beans
1 cup chopped artichoke hearts
¼ cup vegan Mayonnaise
½ cup diced celery
½ cup diced red onion
1 cup red grapes sliced
Salt and pepper to taste
Combine all ingredients in a mixing bowl, mix until fully blended.
Serve on grainy bread or a brioche roll w lettuce, tomato, cucumber.
Delval Apple & Quinoa salad with Grilled Chicken (Courtesy of Gerald Hunter, Delaware Valley University)
2 cups cooked Quinoa (see attached recipe)
1 cup small diced apple of choice
¼ cup small diced peppers
¼ cup grape or cherry tomatoes cut in wedges
2 Tbs of fresh cut cilantro
¼ cup of dressing (see optional attached recipe)
4-6oz cut cooked boneless skinless chicken (see optional recipe)
Micro or fresh cilantro and sliced apple for garnish (this is optional.)
In medium size mixing bowl add quinoa, diced apples, cherry tomatoes, peppers add fresh cilantro
Add dressing mix till evenly coated
Top with cut chicken
Top with sliced apple and fresh cilantro
Salad greens are also an option
Basic Vinaigrette recipe
1 cup olive or canola oil of choice
¼ cup of vinegar of choice (apple cider preferred)
Salt to taste
Optional ingredients
Tbs spoon minced shallots
2 Tbs honey
2 Tbs Dijon mustard (Grey Poupon)
Add all ingredients but oil in bowl. Slowly add oil incorporating it into ingredients
Season with salt
Grilled Chicken
Season boneless skinless chicken of choice with salt, pepper and oil
Grill chicken on grill or grill pan for 1-2 mins each side
Place in 350 degree preheated oven
Cook 8-10 mins or till chicken holds an internal temp of 165 degrees for 15 seconds on a meat thermometer
Always make sure to check center of chicken at its thickest part to get accurate temp, this is important depending on size and shape of chicken you want to make sure its cooked throughout the entire piece.
Chicken can be prepared up to 2 days before needing it there are many options to use from tenderloins, breast or even boneless skin less thighs, any of these are good option so whatever personal favorite is will work
Quinoa
2 cups water
1 cup Quinoa
Toast quinoa in small nonstick pan till begins to smell nutty (optional)
Add to small sauce pot and add water bring to simmer 10-15 minutes till Quinoa is cooked and fluff with fork
It's important that if making this ahead of time and holding that it is cooled down immediately after cooking to sop cooking process and keep it from over cooking.
5 Ingredient Impossible Bolognese (courtesy of Pete Anderson, Water Wheel Tavern)
1 12oz package of Impossible Foods Meat Alternative
1 Fennel Bulb, large diced, reserve fennel fronds for garnish
1 cup shredded carrots
1 cup Red Wine
1 24oz Jar of your favorite tomato sauce
Cook the Impossible "Meat" over medium high heat. Heat until browned thoroughly. Remove browned "meat".
Add 1 Tablespoon of olive oil to the pan. Saute fennel and carrots until slightly tender.
Deglaze the pan with 1 cup of your favorite red wine.
Add 1 24oz jar of your favorite prepared pasta sauce.
Simmer over medium heat for 20 minutes while stirring frequently.
Add salt and pepper to taste and serve over pasta of your choice.