MENUS
Fresh and Flavorful Italian
Family favorites for the season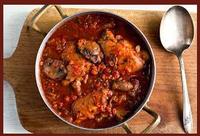 Chicken and Porcini Cacciatore
Homemade Roasted Butternut Squash Tortellini with Sage Brown Butter
2 cups roasted butternut squash
2 cups ricotta cheese
50 rounds fresh pasta
1 stick butter
2 tablespoons fresh sage
Grated parmesan cheese
Salt and pepper
Add butternut squash and ricotta to a mixing bowl; stir to incorporate. Season with salt and pepper.
Working in batches, place pasta rounds on a clean work surface. Place a dollop of filling in the center of each. Brush edges with water and fold into a half-moon; pinch edges, squeezing out any air, to seal. Using your finger, moisten one end of the half-moon with water. Bring both ends together to form the tortellini, pinching to seal. Place on a well-floured sheet pan.
Bring a large pot of well salted water to a boil; cook the tortellini until tender. Drain, reserving some of the cooking liquid.
Melt butter in a saute pan; cook until lightly browned. Add sage; cook 30 seconds. Add tortellini; toss to coat, adding some of the cooking liquid as needed to thin the sauce.
Toss in parmesan; adjust seasoning.
Mixed Seafood Soup with Fennel and Roasted Tomato Broth
2 tablespoons olive oil
1 large onion, finely diced
1 red pepper, cored, seeded and finely diced
½ bulb fennel, finely diced
2 stalks celery, finely diced
2 cloves garlic, minced
½ cup white wine
4 cups vegetable stock
2 cups petite diced tomatoes, with juice
1¼ pounds fresh red snapper, cubed
2 cups cooked fideo pasta
1 tablespoon minced fresh thyme
Salt and pepper
Bring a stockpot to medium heat and add the oil. Cook the onions, peppers, fennel and celery until nicely softened, about 8 to 10 minutes. Add the garlic and cook 1 minute more.
Add the wine; cook until reduced by half. Add the vegetable stock and tomatoes; bring to a gentle simmer.
Stir in the fish and pasta; gently simmer until fish is just cooked through, about 7 to 8 minutes.
Season with thyme, salt and pepper.
Chicken Cacciatore with Porcini Mushrooms
1 ounce porcini mushrooms
2 tablespoons olive oil
8 chicken boneless, skinless thighs
1 pound sweet Italian sausage, casing removed
1 onion, diced
1 pound button mushrooms, quartered
2 cloves garlic, crushed
½ cup red wine
1 cup rich chicken stock, or as needed
2 teaspoons minced fresh thyme
Salt and pepper
Bring 2 cups of water to a simmer. Pour over porcini mushrooms and let stand until cooled; remove mushrooms and strain liquid. Chop mushrooms and set liquid aside.
Bring a large Dutch oven to medium-high heat and add the oil. Season chicken with salt and pepper; brown and set aside.
Add sausage; cook, breaking up with a spoon, until browned. Add the onion and mushrooms; continue cooking until nicely browned. Add the garlic and reserved porcini mushrooms and cook 1 minute more.
Add the wine and cook until reduced by half. Add the reserved mushroom water, stock and chicken. Bring to a simmer and cook until chicken is tender, about 1 hour. Season with herbs, salt and pepper.
Tiramisu Cheesecake
1 (12 ounce) package ladyfingers
¼ cup butter, melted
¼ cup coffee-flavored liqueur, divided
3 (8 ounce) packages cream cheese
1 (8 ounce) container mascarpone cheese
1 cup sugar
2 large eggs
¼ cup all-purpose flour
1 (1 ounce) square semisweet chocolate
Preheat oven to 350 degrees. Place a pan of water on the bottom of the oven.
Crush the package of ladyfingers to fine crumbs. Mix the melted butter into the crumbs. Moisten with 2 tablespoons of the coffee liqueur. Press into an 8-inch springform pan.
In a large bowl, mix cream cheese, mascarpone, and sugar until very smooth. Add 2 tablespoons coffee liqueur, and mix. Add the eggs and the flour; mix slowly just until smooth. Pour batter over crust in the springform pan.
Place pan on middle rack of oven. Bake until just set, 40 to 45 minutes. Open oven door, and turn off the heat. Leave cake to cool in oven for 20 minutes. Remove from oven, and let it finish cooling, about 30 minutes. Refrigerate for at least 3 hours, or overnight.
Grate semisweet chocolate over the top right before serving.