MENUS
Featured Recipe: Sautéed Shrimp with Salsa Verde, Honey-Garlic Aioli and Fried Bread
Bring the influences of Spain to your table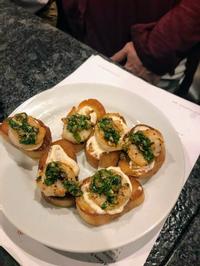 Travel to Spain without leaving your kitchen with this recipe.
Sautéed Shrimp with Salsa Verde, Honey-Garlic Aioli and Fried Bread
Salsa Verde
3 tablespoons extra virgin olive oil
¼ cup firmly packed flat leaf parsley, minced
1 teaspoon capers, chopped
¼ teaspoon anchovy paste
¼ teaspoon garlic, minced
1 teaspoon lemon zest
1 teaspoon lemon juice
Pinch of crushed red pepper
Sea salt and freshly ground pepper
To make the salsa verde: stir all ingredients in a small until well mixed; set aside.
Garlic Aioli
½ cup mayonnaise
½ garlic clove, finely minced
1 teaspoon orange juice
1 teaspoon honey
Mix together all ingredients in a small bowl. until smooth; season with salt and pepper.
Shrimp
3 to 4 tablespoons olive oil, divided
3 to 4 slices of crusty bread (cut about ¾ inch thick)
¼ pound large shrimp, peeled and deveined
Pinch crushed red pepper flake, optional
1 garlic clove, sliced thin
Heat 1 tablespoon of oil in a skillet over medium high heat.
Add bread to skillet; fry on 1 side only until golden around edges; remove from pan.
Add remaining oil to pan. Cook shrimp, turning once, until pink and slightly charred.
Add the crushed red pepper and garlic; cook for about 30 seconds.
Transfer shrimp to bread slices; top with aioli and salsa verde.