MENUS
Featured Recipe of the Week: Three Cheese Fondue
Enjoy a delicious experience this Valentine's Day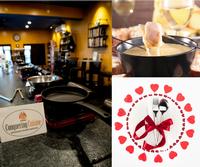 Happy Valentine's Day!
Some meals are for sustenance, especially in our over-scheduled, on the go society, but oftentimes, a meal is much, much more. Sometimes it is about a little indulgence and sharing it with someone we love. And even though Valentine's Day has become an over commercialized holiday, it can make us pause to remember the ones we love, even when it falls mid-week! And what better way to celebrate than over a special meal.
Since last week, our culinary adventurers have been sharing their cooking class experience with someone special. With Valentine's Day later this week, Conquering Cuisine has been busy with their Romantic Dinner for Two cooking classes and a Wines for Romantic Meal wine tasting and pairing. With all six classes sold out, the idea has obviously resonated with our customers. So what can our class participants expect - how about some traditionally romantic foods, including fondue, rich sauces and of course chocolate. But couples who attend are more than just sampling delicious food and wine, they are sharing an experience with someone they love and isn't that what Valentine's Day is all about.
This week our featured recipe is a Three Cheese Fondue, which our participants have made during the hands-on classes. It is a perfect dish for two to share and the interactive quality of fondue makes it even more fun. So we encourage you to share more than good food and wine this Valentine's day, share a conversation and experience.
Three Cheese Fondue with Crostini and Apples
1 cup white wine
1 tablespoon butter
1 tablespoon flour
4 ounces cubed cheddar
4 ounces cubed gruyere
6 ounces cubed Swiss
Sea salt and pepper
2 apples, cut into cubes
6 thick slices of bread
Melt butter in a saucepan over medium heat.

Add flour; whisk to combine.

Stir in wine; bring to a simmer. Cook for 5 minutes over low heat.

Gradual add cheese and whisk until smooth, season with salt and pepper.

Dip bread and apples in fondue and enjoy.