MENUS
Featured Recipe of the Week: Shrimp with Spicy Green Beans and Peanuts
Escape the storm and travel to China today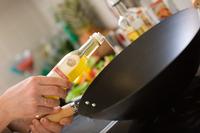 Wok Cookery - A Perfect Weekday Meal
I am writing this week's blog during the calm before the storm that is predicted to come within a couple of hours. I can't help but think that while two-thirds of the winter season has passed and I have one eye on spring (especially after days like last Friday), I also have one boot firmly stuck in the snow. So on days like this, it seems like a good time for day dreaming of warmer places and far away destinations. And sometimes we can make that day dream a reality with an international meal. Conquering Cuisine offers a series on the Techniques of International Cooking. And the classes span the globe, with a focus on Greece, Mexico, France and more. Last week, our culinary adventurers traveled to China as they learned the techniques of cooking with a wok.
Participants learned the advantages of wok cookery and made some delicious steamed and stir-fried dishes. Like sautéing, cooking in a wok allows you to make dishes quickly with minimal oil. The vegetable-rich dishes are healthy and on the table fast, perfect for weekday meals. And during the hands-on class, participants also learned how to use and care for their wok and about the traditional sauces and spices used in Chinese cooking.
So with time before the storm hits, forget about take-out and think about heading to the store for ingredients for this Shrimp with Spicy Green Beans and Peanuts. As the snow, ice and rain fall outside, you can safely escape to China tonight from the comforts of home by gathering with the ones you love in the kitchen and around the table. Enjoy!
Shrimp with Spicy Green Beans and Peanuts
2 tablespoons peanut oil
1/3 pound medium shrimp, peeled and deveined
½ pound Chinese long beans, cut into 2 inch pieces, blanched and cooled
½ shallot, sliced very thin
½ teaspoon garlic, minced
½ teaspoon ginger, minced
1 tablespoon soy sauce
1 teaspoon Sambal or chile-garlic paste
¼ cup unsalted peanuts, toasted
1 teaspoon sesame oil
½ lime, juiced
Preheat wok with peanut oil over medium heat.

Add shrimp; stir fry until shrimp is just cooked through; remove from pan.

Add long beans, cook, tossing to coat with oil, until lightly browned.

Add shallot, garlic, ginger, sauté just until fragrant.

Add soy sauce, Sambal, peanuts and sesame oil; cook, stirring to coat, until sauce is slightly reduced.

Add shrimp; continue cooking, tossing to coat, until shrimp is warmed through.

Remove from heat; stir in lime juice.