MENUS
Featured Recipe of the Week: Sauteed Pork in a Dijon Cream Sauce
Ring in the New Year with some good luck!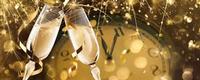 Happy 2019!
As 2018 winds down, many often reflect on the past year and look ahead to the New Year with renewed resolution and hope. And we are no exception. This year, Conquering Cuisine was fortunate to share its passion for food with many familiar faces and new ones as well. And we hope that the year ahead finds even more of you joining us on culinary adventures through a variety of classes, food and beer/wine pairings, catered events and festivities. We are continually adding new offerings to meet the demand so be sure to check back with us often.
Today, we had some customers visiting us at the shop to pick up their Traditional Pork and Sauerkraut meal pack. We chose this particular menu because many people choose to ring in the New Year surrounded by family and friends and feasting on foods that are traditionally good luck. In many cultures, pork is one of those foods believed to symbolize wealth and prosperity. According to folk tradition, pork was considered a symbol of progress since pigs root forward as they eat, as opposed to the backwards scratching of chickens and turkeys. Whatever the reasoning, why not try this pork dish tomorrow. Delicious food, close family and friends and some good luck - sounds like a winning combination to start the New Year!
Sauteed Pork in a Dijon Cream Sauce
Olive oil
4 boneless pork chops, thick-cut
2 shallots, finely chopped
¼ cup brandy
½ cup chicken stock
½ cup heavy cream
1 tablespoon Dijon mustard
Fresh thyme
Salt and pepper

Bring a heavy sauté pan to medium-high heat. Add just enough oil to coat the bottom of the pan.

Season the pork with salt and pepper. Cook pork, turning once, until golden brown. Remove from pan.

Reduce heat to medium-low. Add the shallots and cook until softened but not browned.

Remove from heat and add the brandy. Simmer until reduced by half.

Add the chicken stock, cream and Dijon mustard. Bring to a simmer and cook until reduced and flavors combine.

Add back pork and bring back to a gentle simmer. Cook, covered, until pork is done (150 degrees).

Season with thyme, salt and pepper.