Featured Recipe of the Week: Ricotta and Grilled Vegetable Crepes with Roasted Red Pepper Sauce
Healthy Summer Eating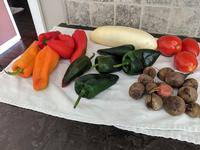 Labor Day weekend may the unofficial end of summer and I know the list of seasonal vegetables will soon be changing, but right now I'm still enjoy plenty of squash, tomatoes, cucumbers and peppers from the farm. I'm also enjoying having a stash of veggies in the fridge so I can pull them out for grilling or salads. Add a protein and dinner easily comes together.
A couple of weeks ago, we held a class around healthy and flavorful summer suppers. Class was focused on delicious ways to add vegetables to your diet. Our culinary adventurers left inspired to hit up the farm stands and create some mouthwatering and healthy meals of their own. Here is one of the recipes enjoyed at the class.
Ricotta and Grilled Vegetable Crepes with Roasted Red Pepper Sauce
4 cups diced grilled vegetables
1 cup skim ricotta
¼ cup grated smoked mozzarella
12 small crepes
Salt and pepper
2 tablespoons butter
2 tablespoons flour
2 cups vegetable stock
1 large roasted pepper, chopped
Fresh basil, chiffonade
Grated parmesan
Stir together the vegetables, ricotta and mozzarella; season with salt and pepper.
Divide filling among crepes; roll and transfer to a parchment lined baking sheet. Bake in a 350 degree oven just until warmed through.
Melt butter in a small saucepan. Stir in flour; cook, stirring, for one minute. Slowly whisk in stock and roasted red peppers; bring to a simmer and cook, stirring, until thickened. Use an immersion blender to puree sauce. Season with basil, salt and pepper.
Transfer crepes to plates; top with sauce. Serve topped with parmesan.