MAIN COURSE

Chicken Cacciatore with Porcini Mushrooms
Fresh and Flavorful Italian Family favorites for the season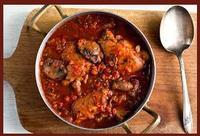 1 ounce porcini mushrooms
2 tablespoons olive oil
8 chicken boneless, skinless thighs
1 pound sweet Italian sausage, casing removed
1 onion, diced
1 pound button mushrooms, quartered
2 cloves garlic, crushed
½ cup red wine
1 cup rich chicken stock, or as needed
2 teaspoons minced fresh thyme
Salt and pepper
Bring 2 cups of water to a simmer. Pour over porcini mushrooms and let stand until cooled; remove mushrooms and strain liquid. Chop mushrooms and set liquid aside.
Bring a large Dutch oven to medium-high heat and add the oil. Season chicken with salt and pepper; brown and set aside.
Add sausage; cook, breaking up with a spoon, until browned. Add the onion and mushrooms; continue cooking until nicely browned. Add the garlic and reserved porcini mushrooms and cook 1 minute more.
Add the wine and cook until reduced by half. Add the reserved mushroom water, stock and chicken. Bring to a simmer and cook until chicken is tender, about 1 hour. Season with herbs, salt and pepper.